F*ck Around and Find Out with Anna Lee: This is the modern sex advice column you didn't know you needed, focused on finding confidence in your own pleasure through knowledge and research! Think a fresh reimagining from the days of those pink, star-studded magazine sex advice columns like "10 Ways to Please Your Man" that we all grew up with. In my journey from growing up in a strict, immigrant Korean household, scared of my own body, to my current reality as co-founder of a smart vibrator company and certified sex educator, I realized how much we need to destigmatize the cultural taboo around sexual pleasure. So, hold my hand (if you want to, of course) and together, let's fuck around and find out every nook and cranny of this sexy world. 🙂 
Have a question you'd like me to answer? Keep 'em coming by submitting it anonymously here!
---
It's that time of the year. Cupid's arrows are darting through the sky and some of you are standing outside with arms open wide, ready to be showered by love. So sweet. But me? I'm soaring through the sky flinging dildos and warm, wet towels (IFKYK) to y'all. Because my mission is to make sure you fuck, get fucked, and fuck yourself this Valentine's Day. Plus, my friends would all agree Geminis shouldn't be giving out love advice. This week I'm the dildo angel here to answer all your questions, to fill your heads with knowledge—and which will then help fill you up afterwards. (Sorry.) 
I'm in a long-distance situationship and I want to send my first nude while we're apart. Give me your tips!! -MC
Alright sweet hotties, come gather around close to me and let me give you my top nude idea of the year. But before I dive into my glorious idea, let's quickly make sure we're on the same page about the 101 of nudes: understand that there are always risks to sending nudes to someone, so it's important that you feel comfortable, and that it is 100 percent your choice to send one. On the flip side, also never send unsolicited nudes—it's sexual harassment. Everything should be consensual!
Now let me tell you my idea! This works for anyone whether you have a penis or vulva. Because also listen, the close-up, just-the-dick pics have got to go. That's a rant for another day. Okay, so back to my idea. So y'all know that roses scene from American Beauty where Angela Hayes is shot from top down with roses covering parts of her body? Use some blue tape to fix your phone to your ceiling/ceiling light/ceiling fan and center yourself, in frame, lying down wearing whatever (or nothing) makes you feel the sexiest, and snap away. If you don't have a clicker to snap the photo, there's an app I like called Lens Buddy, where you can set how long to wait before snapping the first photo, how many photos to take, and at what time intervals. You're guaranteed to get some golden nuggets that way.
Now to take it to the next level, you use a video editing app like Capcut or something to make that photo a two-second video. Because then, when you send it as a "View Once Only," it will be just enough for the other person to process in their brain what you sent, panic, and try to press-and-hold the screen to pause the photo, but because it's a really short video it'll disappear. Then, my friends, we're off to the races with the devilish teasing, the foreplay, the build-up, and the sexting. Whether you eventually send the more permanent nude is up to you. I'd say it depends how good they are. ;)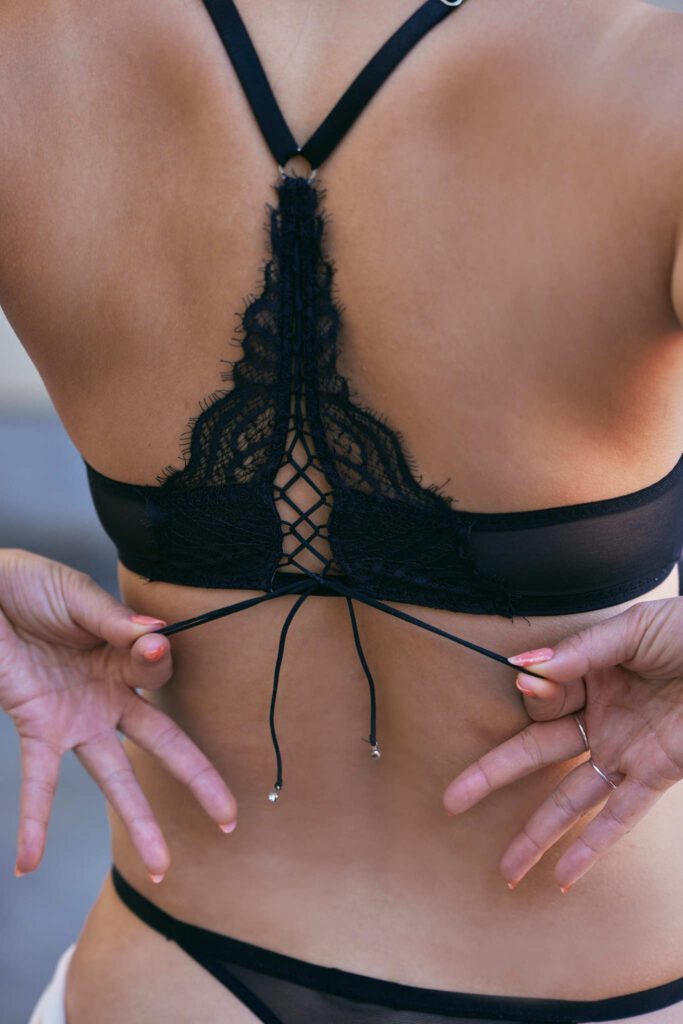 What is your favorite aphrodisiac? Are there any that really work? -anonymous
Ah, the infamous oysters and chocolates. There's a long history of using aphrodisiacs across many different cultures and a lot of them have held up through the test of time in pop culture, so who am I to knock it? From a research perspective though, the scientific evidence for effectiveness of aphrodisiacs is limited and mixed. There's really not enough research to concretely say there's anything beyond potentially mild, temporary effects on libido. One thing we do know though is that the placebo effect can be one hell of a drug—so if guzzling a dozen oysters is going to get you feeling some type of way, by all means, guzzle away.
My favorite aphrodisiac? Someone DoorDashing food to the house, so I can eat lasagna in my underwear in bed.
PLEASE ANNA! I need some fun, sexy activity ideas for Valentine's Day for me and my boyfriend. -AM
I got you. Here are a few sexy activity ideas to have a lot of silly fun:
1. Play with a remote-control vibrator: Putting on a remote-control vibrator and then surprising your partner with the remote to control it. You and your partner can make it a challenge with funishments to try to get through cooking a meal together or beating a co-op video game level. 
2. Create a sex menu: I recently saw the idea of a sex menu on Reddit and I thought it was the cutest idea ever. You can work together to make a sex menu with appetizers, mains, side dishes, and desserts sections. How cute would it be to be handed the menu and you are like "I'd like to start with some warm oil massage to share. For my main, I'd like to do it against the wall with a blindfold as my side dish. And for dessert, I'd like it in the mouth as well as the extra cuddles." SO. CUTE.
3. Have a Polaroid photoshoot: Get one of those Instax Minis and some film for like $60 and go to town on taking turns being creative directors to snap hot ass photos of each other and with each other.
4. Build a sex fort: Not all of us have the capacity to build a permanent sex dungeon, especially when you're living in a tiny studio in San Francisco, without potentially horrifying your parents during their visit. So instead, y'all can build a temporary fort to fuck in! Get creative—bring in that wedge pillow you swear you got for "lumbar support" and that ping pong paddle.
Now to close out this Valentine's Day special, I would be remiss if I didn't end it without responding to this hilarious text I got from my friend after I gave her a sneak peak of the questions I was answering for this week:
Alright, fuck you, I don't even have a date for Valentine's Day, WHAT ABOUT US LONELY HORNY PEOPLE. -DM
Build a fort to cry in.
HAHA, I'm totally kidding. This is what I'm gonna be doing, OKAY?! A wonderful friend recently introduced me to a tray of Lay's potato chips, crème fraiche, and caviar, and I was freaking sold. In fact, I change my favorite aphrodisiac answer above to this snack tray. So this Valentine's Day, I'm going to make myself this tray with a nice lil' cocktail. Put on a face mask and FaceTime my friends while watching HBO. You're more than welcome to come over, but if you don't, I'll probably eventually hang out with my vibrating friend instead.
HAPPY VALENTINE'S DAY!
Published on February 14, 2023
Henry is a fashion photographer who interweaves storytelling with vibrant aesthetics, and spans luxury fashion to product photography. His photography has been published in Vogue Italia, Elle Singapore, People magazine, L'Officiel, and Men's Health Australia/Portugal. Henry is also the founder, editor in chief of Timid magazine. Timid is a platform to uplift unheard Asian Pacific Islanders stories from around the world. It seeks to reclaim "timid" and challenge racial norms by providing channels for sharing and learning from diverse experiences, empowering and celebrating our collective identity.