It's incredibly surreal to interview R'Bonney Gabriel—a mixed-race Filipina American fashion designer, and now the first Filipina American woman to win the coveted Mouawad Miss Universe Force for Good crown and international title at the 71st Miss Universe competition.
"It's not only a win for me—it's a win for everybody that's similar to me or for people who have something in common," Gabriel says. Indeed, even in 2023, we're still somehow cementing historic firsts in representation. But in the world of American pageantry, firsts such as Gabriel's win has enormous implications: she is only the second Asian American Miss Universe winner ever and the fourth person from the Asian American Native Hawaiian Pacific Islander (AANHPI) community to have been a Miss USA titleholder (after Macel Wilson in 1962, Mai Shanely in 1984, and Brook Lee in 1997) in their entire 71-year history.
Even more so, when Filipinos are the third largest ethnic group of the Asian diaspora in the U.S. with an estimated 4.1 million people, of which more than about 200,000 live in Texas and whose population mostly resides in Houston, where Gabriel is originally from, these numbers will give you a sense of the potential impact and pressure that she carries on her shoulders.
Gabriel has long been a transformational leader—she's an eco-friendly fashion designer, model, and sewing instructor with a bachelor's degree in fashion design with a minor in fibers from the University of North Texas. She's an advocate for sustainability through upcycling clothes with reusable fabrics and textiles, as well as promoting a small-batch-release-only policy through her eponymous clothing line. She's also taught sewing classes to domestic violence survivors through the nonprofit Magpies & Peacocks. "A lot of people don't even realize that [fashion waste] is an issue because clothes are made mainly behind the scenes. They're made in factories or overseas, so the general public never even thinks about this. I saw this [fact] as an opportunity to bring awareness through what I do with my designs," Gabriel tells me.
As I listened to her share her story, I thought: what a breath of fresh air. As someone who's religiously watched the Miss Universe pageant every year since 2015 and keeps up to date with the ongoings of the international pageant circuit and the national pageants of the countries whose competitions are held up in the same esteem as national sports events, it's exciting to see a Miss Universe with a real occupation and cause-driven passion that's been put into meaningful practice before she ever considered pageantry.
As progress promises to revamp the Miss Universe stage for years to come thanks to new ownership under Thai businesswoman and transgender advocate Anne Jakrajutatip, I hope to see more historic firsts happen, such as the first LGBTQ+ woman to win the title (specifically a transgender woman). I hope to see a woman with a disability win one day. I also hope to see more Black women win, as well as women from countries who have never won the title before and who triumph despite their national organizations not having the same financial resources and training infrastructure as other countries. I want to see more underdogs win.
While beauty pageants seem antiquated and antifeminist, where cis, heterosexual, middle-to-upper-class women with a modeling background and acting pursuits have largely dominated the international level, the Miss Universe organization provides a unique platform, with history and credibility as an institution, for women from all over the world to share their story and uplift their causes relevant to their country on the international stage. Thus, when it comes time for the annual competition, I always consider: Who should the next Miss Universe be? What values should the next Miss Universe stand for? Personally, I look for someone who champions the everywoman and the marginalized. Someone who can communicate and is a storyteller. Someone who excites and disrupts the status quo. Someone who can handle public scrutiny and maintain grace under pressure, like beauty through a storm. This year, R'Bonney Gabriel embodied all of these in spades.
Below, Gabriel shares her thoughts on celebrating her win with the global Filipino community, the evolution of Asian American beauty acceptance, and her top tips for fashion and makeup.
This interview has been edited for clarity and length.
Teresa Tran: First off: big, BIG congratulations on winning Miss Universe.
R'Bonney Gabriel: Thank you!
TT: I wanted to let you know I'm a huge fan of the pageant. Every year I never miss a competition. I always host annual live watch parties with my whole family and friends. This year, we especially rooted for you. We were, like, this is the first time we've ever really felt patriotic. Like, she's so amazing! So I'm personally happy that you won and am so happy to get to interview you.
RG: (Laughs) Oh, well that means a lot, thank you!
TT: How does it feel to have won Miss Universe?
RG: It's the most incredible feeling. I still can't believe it. Even though it's been a few weeks now, I still remind myself. I'm just trying to hold on to every day as much as possible because this is a special time.
TT: That shot of when you found out you won—your reaction was so precious. I also remember in the crowd, I saw a video of your father cheering you on at the pageant and videos on your Instagram story of your friends and family all over the world reacting to your win. I especially noticed the ones who were Filipino or looked like people from the Asian community celebrating you. Then I watched your post-win press conference and you spoke Tagalog to your Filipino fans. It was so moving to see all of that. How has it been for you to have this wave of Asian and Asian American support behind you?
RG: It's a huge honor. I feel like I have a big responsibility to be a voice for the Asian community all around the world, but for me, I hope [my win] makes Asians feel more seen and represented. And I think now more than ever, I feel like this is a time for Asians to be celebrated. We're seeing it more in pop culture and in movies and in different career fields. To me, it's a great time to continue to write our story in history.
TT: Can you share what it was like growing up in Texas as a mixed-race Asian American in such a tight community? I remember seeing a video on your Instagram where you attended a Filipino American cultural festival after your win as Miss USA. How were you able to cultivate friendships and stay connected to your heritage?
RG: I grew up in Houston and it's extremely diverse, so luckily there were so many different cultures, even in like middle and high school. Everybody was kind of friends with everybody, which was cool because I felt like it really helped me have an open mindset to not be judgmental. Then coming back to Houston after I won Miss USA, it kind of felt like an unofficial homecoming. Because when I went to the Filipino Street Food Festival, I knew there were going to be a lot of people. Filipinos knew how to show support because they made me feel like I was Beyoncé. I couldn't go anywhere without people wanting to take photos every five seconds! (Laughs).
It felt so great to have that support because I was just coming off two weeks of being Miss USA, and there was already a little turbulence with allegations and you know, people questioning my win. So to come home to Houston and have that in-person support and love from Filipinos loving me to the ultimate fullest capabilities of themselves was amazing. I remember going home that night feeling so happy and relieved. I was like, okay, people do believe in me. Filipinos really believe in whoever and whatever, so I feel blessed to even be happy. To have that support, it's incredible.
TT: That reminds me of the often repeated, known joke of Filipinos loving their pageants. They really love it.
RG: (Nods and smiles) Oh yeah, absolutely. I'm here for it.
TT: That's amazing to hear that you were embraced so warmly. And I bet when you go back for your homecoming as Miss Universe this time, it's going to be huge.
RG: Yeah, yeah, I'm looking forward to it! Every time I was training, I always felt like this was bigger than just for me. I have to win for my team, my coaches, my family, my state, my city, my culture, everybody!
TT: And win you did, girl! Not only did you win, but you also made history as the first Filipina American woman to win Miss Universe. Winning in pageantry as an Asian American has been proven possible; but there are still "firsts" happening, like with your historic win this year, and many more "firsts" yet to be achieved. Based on all of this, what was your experience like competing in American pageantry that's historically been very homogenous? It can be rooted in Texas and in the national Miss USA context as well. Do you think your win will open more doors?
RG: Yeah, so competing in Texas was extremely hard because Texas is very competitive and is a little bit traditional. Over 100 girls competed in Texas so that was the hardest hurdle to get [over]. I actually competed in Miss Texas 2021, and I got first runner-up, and then I thought I aged out. But when we're talking about representation in different cultures, it's interesting because in Texas, the whole state is very diverse, especially where the competition was held in Houston. There are a lot of Asians there, but they don't actually compete in pageants and I'm not sure why that is. I'm not sure if it's because they don't see a lot of girls that look like us. For example, Filipinos love pageants, but I was, you know, the only Filipino competing in Texas despite there being so many Filipinos. I'm not really sure, but I've definitely thought about why this is happening.
I hope it really does open the door for more Asian Americans to believe in themselves because pageantry is so big in Asia. Asian pageants are so passionate and they're great competitors. I mean, the work ethic that we have, it's very focused. I hope this really does open the door here in America for more Asians to feel like they have a chance because they actually do.
TT: You make a really valid point. It could have been infrastructure, resources, or lack of representation. Can you weigh in on whether you think Asian beauty or Asian American beauty has become more accepted by mainstream society from your experience through these pageants over the years? How do you think it's evolved?
RG: I think it's becoming more accepted. People are opening their eyes to different cultures of beauty because every culture has distinct physical features. I think it's beautiful that every girl looks different. We shouldn't all look the same. I definitely have heard it all before, where people say, you know, "you're beautiful for an Asian" or "there are not that many beautiful Asians" and that really hurts. I strongly disagree with that. So I'm really hoping my win will champion the beauty of Asians and open up the world to having more of a mindset that beauty is not just one or two looks.
TT: Let's talk fashion! Your final answer on coronation night about taking your profession as a fashion designer and using it to be a transformational leader and leave a positive impact really inspired me. Did you always know that you wanted to get into fashion? What made you gravitate to it?
RG: I knew from a very early age. I grew up thrifting and going to secondhand stores with my mother and finding really unique vintage pieces, but they would never fit. That kind of really introduced me to altering and sewing my own clothing because I would take it home and I'd see my mom sewing pieces or holes in my clothing. I adopted that same mindset at about age 15. Then I learned later on, that the fashion industry is one of the largest polluting industries in the world. And I said, 'Oh my gosh, I am part of the problem! I have been just taking all these fabrics and throwing away my scraps!' That's when I really started being more mindful and trying to be more sustainable and use environmentally friendly practices in my design process.
After I really took a deep dive into research on this whole issue, I realized there's a lot of room for improvement. That's why I focus so much on doing videos of all my pieces and showing the behind-the-scenes work and being able to talk about sustainability and recycled fabrics and materials within my process.
TT: I've been following pageantry for a long time. There are some cases where people kind of pick a cause or thing to do for the sake of the pageant and you can see the timeline. But you've been doing this for a hot minute. I saw your online content went all the way up to when you were in college. It's really gratifying that it's evolved and you've brought it to the international stage. Your preliminary and final evening gowns were stunning, as well as your hair and makeup for coronation night. What was your favorite outfit or look you wore and why?
RG: I will probably have to say the interview outfit because I poured my heart and soul into that. It took a very long time to make. I painted it. I used natural fibers that were environmentally friendly, but I also shared the message of going through a storm and finding beauty [in it]. It was a very personal story that I was able to share with the world and in the judges' room. [The interview outfit] has sentimental meaning to me that I'll always remember. And like I said, I worked so hard on it.
TT: Because you're a beauty queen and you go through multiple looks of makeup and you've been doing this for a while. From somebody who's really keen on learning, what's your number one tip for fashion and makeup?
RG: You know, everybody's makeup look is different. I think we scroll and find makeup looks that look really great on a girl, but those are highlighting her physical features. I actually trained with a makeup artist about three or four times and there were two-to-three-hour sessions where she would teach me what looks good on me and what to accentuate with my eye shape and my bone structure. So my advice to anybody would be to get with a professional or get on YouTube; there are tons of resources. But just because something looks good on one girl and you do it on yourself and then you realize "why does this makeup not look the same," it's because you really need to highlight your features. And then for fashion, I feel like I am all over the place. I'm very experimental. One day I want to wear all black. The next day, I'm feeling colorful. Don't be scared to take risks or try something new. Don't be scared that people might say you're wearing something weird. That's the beauty of fashion. We wear clothes every day, so might as well make it interesting and have fun with it. 
TT: I love that and I live by that as well. You were incredibly prepared for the competition. Do you have any advice you can give to other women, especially Asian American women, who want to pursue a similar path or have similar dreams as yours?
RG: My advice to Asian Americans and Asian women would be to use your identity and your difference as your tool and weapon. I think I learned that within the last five years of really coming into my Filipino roots and my Texas roots and owning that, because that's special to who I am. It's something no one can take away from me. It's really opened up unique opportunities for me that other people couldn't have. So I would tell anybody: play into what you're given and into the cards that life gave you, and use that to your full advantage.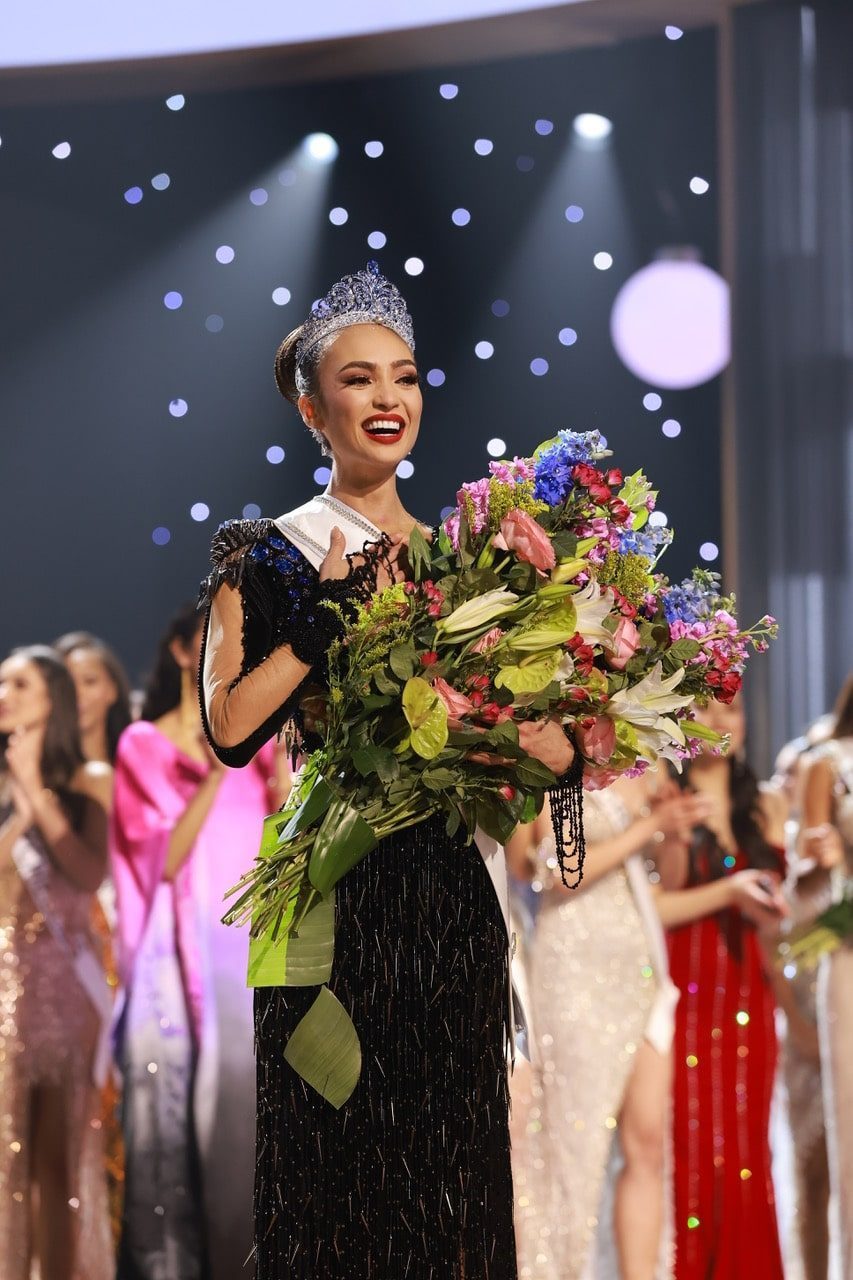 TT: Oh brilliant, I love that. To end this with a bang: Now that you've won, what are you most excited about in the following year as Miss Universe 2023? What do you hope to accomplish?
RG: So many things! I feel like my mind is bursting at the seams with different ideas, but I'm definitely looking forward to traveling and working with charitable organizations because it's a dream come true to have this job and to spread more good into the world. I'm also really hoping to expand on my sewing workshops. That's something I did a lot in Texas and in America. I'm hoping to visit other countries and provide those learning opportunities. I also would love to have a few design collaborations with some big brands. Even if [they] aren't sustainable, I want to do an eco-friendly one-off design or a couple of designs. Those are on the wish list right now, among a lot of other things.
TT: Thank you for talking with me. Last thing, I wanted to share—I have a reaction video [to your win], as well as screenshots of text messages that I sent between my friends of us freaking the freak out. We were like, oh my god, she ate the mic. You hear her? She wiped the floor. Let's go!
RG: (Laughs) Oh my gosh, I would love to see it! 
Behold:
Published on February 28, 2023
Words by Teresa Tran
Teresa Tran (she/her) is an American-born Vietnamese writer and filmmaker based in Atlanta, Georgia, with a background in theater and community organizing. She has a B.A. in English and Women's Studies and a B.S.Ed in English Education from the University of Georgia and studied British Literature at the University of Oxford. She is currently writing and directing her own short films and working on her debut novel. You can find her on Twitter at @teresatran__.