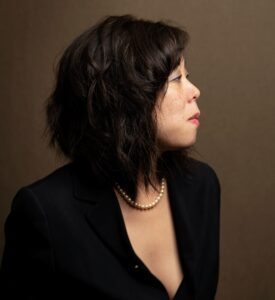 When I visit Sassafras, my favorite Seattle boutique, carrying clothing made by local Northwest fashion designers, I keep an eye out for pieces designed by Malia Peoples. I first fell in love with Peoples' designs eight years ago. Created under the name Lady Konnyaku, Peoples' original garments repurposed vintage polyester fabric swatches to enliven knit sweater dresses, colorful tops, and bucket hats made in the style of Japanese street fashion. Later, she released a collection of brightly hued clutches and zipped pouches made under the signature Other Peoples Polyester. Her pieces have always delighted the eye and stood out in any shop or maker fair. But in the past few years, I'd noticed fewer and fewer of her designs on the racks at Sassafras. And that's because she pivoted her design focus and brand, yet again. Since Peoples shifted to making ceramic jewelry, her handmade earrings and necklace fit better on a shelf. Where the work can be viewed in an elevated setting, like the art it is.
Peoples wanted to arrive at a craft that could allow her to bring together her different creative interests and her identities as a mixed-race Asian American. Clay and paint come together like her multi-racial identities, resisting easy definition. Is it jewelry? Is it artwork?
Questions like "What are you?" and "Where are you from?" have followed Peoples around for much of her life. Her answers to these questions come full circle in her current work.
In her jewelry design process, there's a joyful space for Peoples to embrace all of her expressions of self. And it's that same sense of pride and self-assurance that she hopes people will feel when they put on a piece of her wearable art. Her designs are for anyone who takes pleasure in the simple boldness of being themselves.
Peoples' new wearable art brand, Melted Porcelain, got its start a few years ago before the pandemic. After designing and selling clothing for nearly a decade, Peoples wanted to simplify her production process. Making hand-made clothing demands a tremendous amount of time and resources, as well as space. Peoples' bright and playful designs often felt counter to the neutral gray and black tones favored by Northwest tastes. Though her garments sold, Peoples supplemented her income from fashion design by modeling and teaching sewing and design at the Seattle Fashion Academy and organizations like Coyote Central, Path With Art, and The Wing Luke Museum.
Peoples wanted to find a way to continue making things, while scaling down her production. She studied various designers in Japan and Australia online and noticed the popularity of nerikomi colored clay–a decorative technique for ceramics coming out of Japan. Colorful clay jewelry could be an easier way to introduce color into Northwest wardrobes. Though she had previously thought of ceramics as being bland based on the earthy palettes that she'd seen at stores and craft fairs, Peoples wanted to test how colorful she could make clay.
After learning basic ceramic production techniques from a friend, she played for six months with porcelain. Peoples tested different cut shapes, drying times, firing temperatures, glaze combinations, and color mixes. And she kept her bright color palette. Eventually, she purchased a small kiln off of Craigslist.
Peoples' porcelain jewelry is made through stacking colors together. The slabs of clay are rolled and formed by hand. Like polymer clay, the material is then sliced to reveal a pattern that is planned, but not entirely predictable. Unlike polymer, Peoples uses an elevated material that's not plastic. Though porcelain comes from the earth, it's transformed through firing as glaze turns to glass.
"As a material, porcelain demands more respect," she says. Porcelain is incredibly light, while also being the strongest of all ceramic materials.
Peoples details her pieces with an 18K gold luster. And she strings her ceramic statement necklaces on Greek leather cord. The cords hang smoothly, and resist wear more than other leathers, while adding extra luxury to her pieces. In addition, people with sensitivity to metal can wear the pieces without irritating the skin. "I don't want to put more junk out there," she says. Peoples also uses 18K gold-filled chains and gold ear wires to create wearable art that is the opposite of cheap and disposable.
As an emerging fashion designer, Peoples set herself apart by reusing vintage 1970s polyesters in her earliest designs. Driven largely by the desire to reduce waste, these same values and ethical commitments remain apparent in Peoples' jewelry a decade later. Her porcelain pieces create minimal waste. Whatever doesn't turn out during the initial design process before firing gets repurposed into slurry and remade into clay. Fashion design and pattern making also inform Peoples' process. She creates jewelry with colorful surface designs that reflect the attention of a textile designer. The porcelain pieces lie flat and have a glazed front that is smooth to the touch. Each piece is as pleasing as a well-made garment.
Find Peoples'one-of-kind creations at Sassafras Boutique in Seattle. Check out her website meltedporcelain.com for future pop-up events. A new collection of items launch on her site on August 1 and the website will be refreshed every few months with new inventory.
Published on July 28, 2022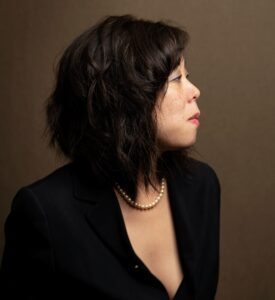 Words by Shin Yu Pai
Shin Yu Pai has published in NYTimes, YES! Magazine, Tricycle, Seattle Met, South Seattle Emerald, ParentMap, Seattle's Child, and other publications. She is the host, writer, and producer of The Blue Suit, a podcast centered on Asian American stories from KUOW, Seattle's NPR station.