Mixed Asian Media: JoySauce is proud to present something very special—a partnership with the ultra talented team over at Mixed Asian Media. In JoySauce's mission to cover stories from the Asian American and Pacific Islander diaspora, we've always considered it incredibly important to include mixed AA+PI perspectives. Since their team already has that piece on lock, we're delighted they were willing to join forces to help us share even more fresh, funny, interesting, irreverent stories each week. Take it away, MAM!
---
AleXa, the fourth-generation mixed Korean American star of Produce 48 and American Song Contest fame, is officially back. Here's what you need to know:
Her latest mini-album, Girls Gone Vogue, came out on Pepero Day, Nov. 11, 2022. This is her third EP. It features five new songs and one instrumental for "Back In Vogue."
The title track is called "Back In Vogue," a vaudeville-inspired concept with classic fashion and ballroom elements. The choreo includes voguing and whacking.
"Back In Vogue" features an even mix of English and Korean lyrics. AleXa's previous single discography consists of songs mostly in English or Korean.
The music video for "Back In Vogue" continues from "Tattoo" where AleXa runs into a portal. AleXa steps out of the portal in "Back In Vogue."
"Back In Vogue" marks AleXa's return to Korean music show stages with a live audience for the first time since the COVID-19 pandemic.
AleXa is co-promoting the title track with a fun bubble-gum pop track, "Endorphin." She performed the track for the first time live in Jersey City for her first U.S. tour.
She worked with renowned English-Thai composer Jeff Satur for the track "Please Try Again."
The album has more than one collab: A ballad-esque track, "Star," features Moonbyul of MAMAMOO.
Check out the music video for AleXa's "Back In Vogue."
Published on November 25, 2022
Words by Lauren W.
Lauren W. is a contributor for Mixed Asian Media.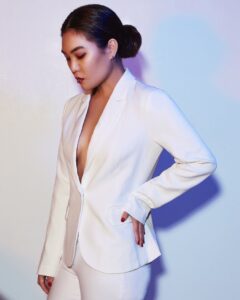 Photography by Lauren Nakao Winn
Lauren Winn is a pop culture whackjob who works in fashion. She is a sucker for genre-meshed aesthetics, a textbook workaholic, a bonafide digital media queen, and the sum of many rotating hyperfixations. If you want to get on her good side, greet her with a LaCroix or follow her on insta @laurennakaowinn.