The sky's the limit when you're dedicated to a dream, and Rakiyah is living proof. The Black independent musician started recording music while studying abroad in South Korea several years ago, and has been on an upward trajectory since. Once on track to become an aeronautical engineer, she eventually took the leap to commit to her artistry full time in 2020 when she released the Korean-English single "Like You." Though it wasn't her first foray into music-making (she first released music while in Korea in 2018), it marked a more serious approach. Since then, she's garnered attention for projects like 2021's Into the Cosmos and her album The Cosmic Queen released earlier this year. Her celestial and otherworldly visuals pay homage to her love for the sciences, while also traversing emotions like heartbreak and true love.
Now, she's jetting off to a new era with the release of her latest single "Crash Landing on You." Her resilience as an indie artist hasn't gone unnoticed by her diehard fans, dubbed the "Rockets." With inspirations stemming from classic R&B musicians, Rakiyah has a fresh sound with airy vocals that deserve to be heard. Rakiyah sat down to discuss her place in the industry, her musical journey, and what fans and new listeners can expect as she continues her stellar career.
This interview has been edited for clarity and length.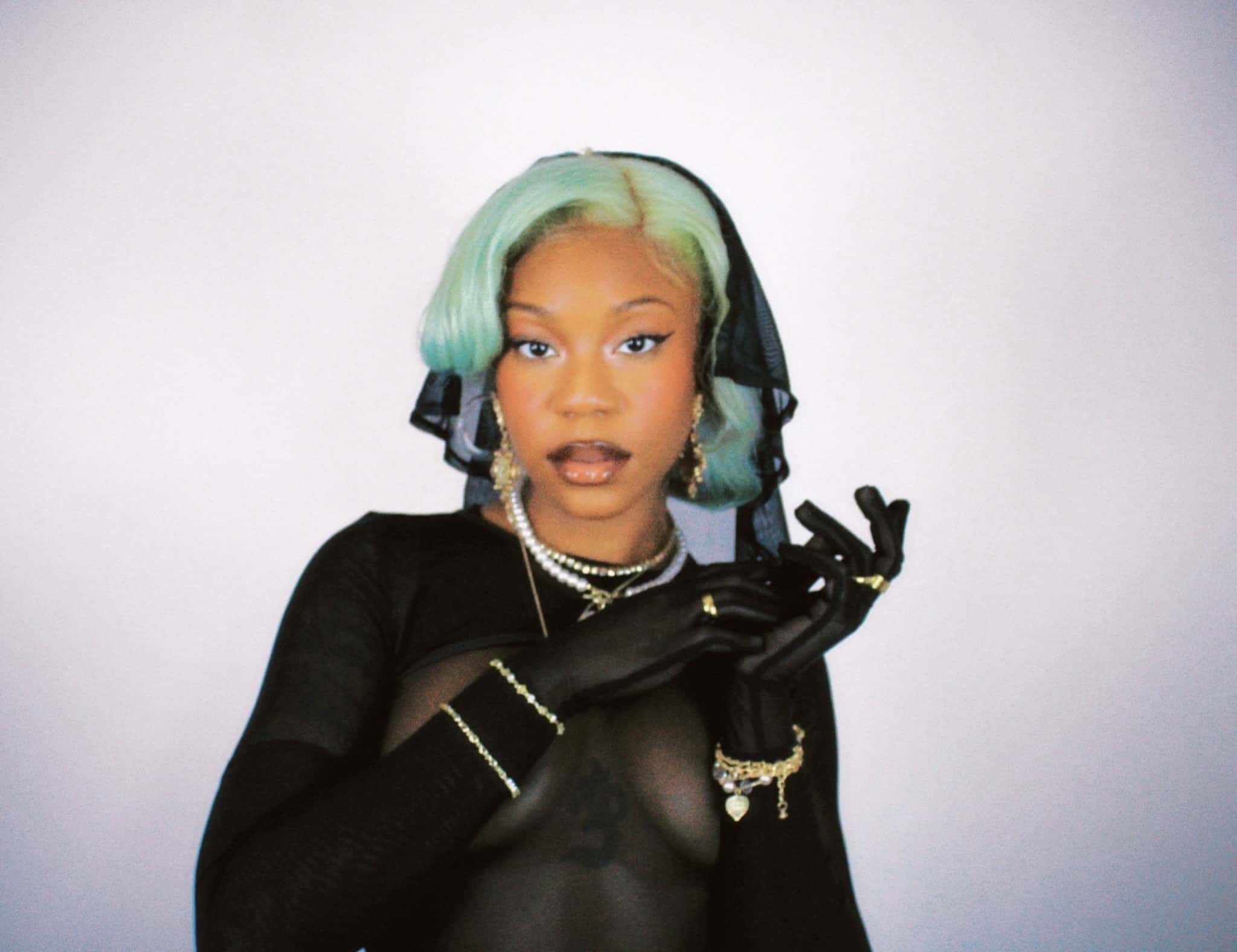 Ashlee Mitchell: "Crash Landing on You" is your latest single and your first drop in a while. What went into this track and how did you draw inspiration for it?
Rakiyah: This year has been pretty interesting for me. I learned a lot and grew so much. And part of that growth came the creation of "Crash Landing on You." Learning to be okay with who I am, and being more in tune with myself in my music. So I decided to share a story I've never really told anyone, let alone my fans. I was producing late one night, and started to create the single. Remembered the pain I once felt from a broken heart and wanted to create a self-anthem of being okay no matter the hurt I felt. The feeling of when everything came crashing down, but making it out alive nonetheless. That "it's okay, I'll be okay." "Crash Landing On You" is a new story I'm sharing with the world but also a moment for me to just heal and let it out. Let the pen just bleed now 'cause I'm human too. It's time for the next era and "Crash Landing On You" was the perfect, haunting ending to conclude my journey through the cosmos and a peak into my upcoming era that I'm so excited for!
AM: What should people know about you when tuning into your work? What space do you see yourself filling in the music industry?
R: When people hear my music, I want them to know me for the storyteller that I am. Music is one of my preferred mediums to explore my imagination and let it run wild. Although I am an artist, I'm also human and experience real life like everyone else. I'm on this journey of growth and self-discovery and will continue to evolve and share my story along the way.
I see myself fulfilling or creating a unique space in the music industry because my art is a reflection of my own very personal journey which is unique to me. From my background in science and engineering to my experience living abroad in Seoul, South Korea, and teaching myself Korean, I put every piece of myself in my music and visuals.
There's not just one space I fit in. I don't think I can define the space I fill. It's a journey we will all see over time, and I hope the world enjoys the ride.
AM: How does your past music, like The Cosmic Queen EP you released earlier this year, compare to this single?
R: The Cosmic Queen was a crucial era in my exploration of sound. It facilitated the transition from my cosmic love odyssey to this new direction. The subject matter in this song is different because I'm telling a story from the other side of love. This is my first self-produced single, so it differs from everything for me. I'd say "Crash Landing On You" is more experimental and darker than my previously released music. Outside of the subject and lyricism, I wanted the production to have my signature ambient, otherworldly chords, but unique drums. I wanted every element to play into the emotion of the song as well as the concept of my era. So I used synths that reminded me of UFOs and aliens, reversed drum kicks to mimic a heartbeat, as well as ticking clocks and machine gear sounds to layer in with the drums. But I kept my signature vocal layering technique that I love to do.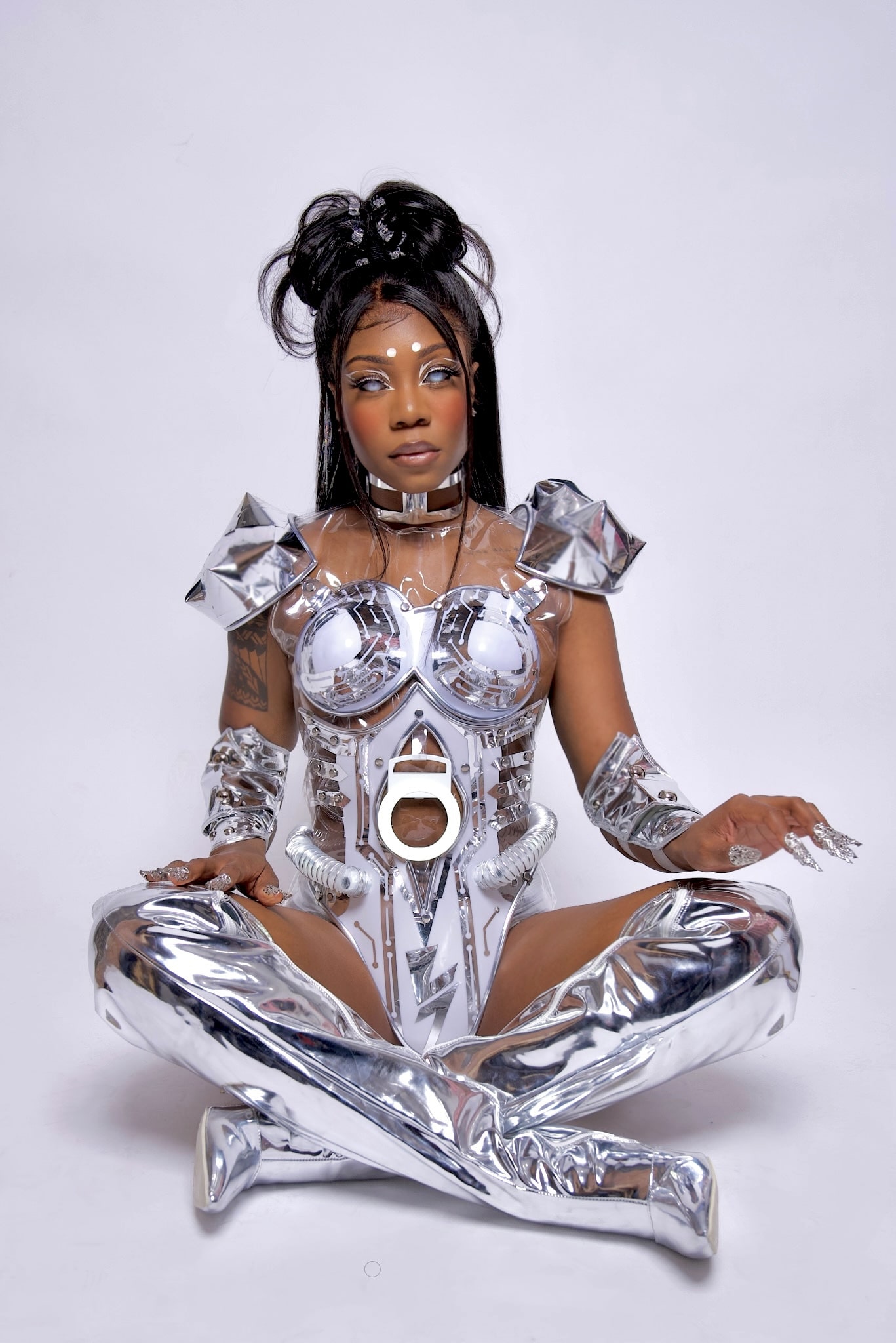 AM: Can you explain the cover art for this track? How do you come up with the concepts and where do you get inspiration for your visuals?
R: The single [released] on Halloween, so I was inspired to create a retro horror cover. The visual reflects where "Crash Landing On You" falls in my musical universe. The cover art features graphic imagery of me in a familiar celestial costume, post the destructive impact of my alien spaceship colliding with planet earth. The imagery is a representation of my heart being abused and bruised but not broken beyond repair. Although I crashed, I survived. 
AM: As a Black independent artist, what are some challenges you've faced and how have they shaped your work? What do you hope changes in the industry?
R: One of the biggest challenges I face is financially supporting my artistry. Because of my budget, I do a lot myself. But I love the experience of doing everything. It's just difficult to wear all of the hats. The reward is the gratification of getting it done, although it may take me longer to release. 
I hope that industry professionals further support independent artists like me more in the future.
AM: You formerly studied abroad in Korea, collaborated with Korean artists, and incorporated the language in some of your music. How do you see your relationship with the Korean industry progressing or changing in the future? Has it informed any of your current artistic decisions?
R: In recent years I have been primarily focused on growing my English discography, but there is still very much a possibility of me incorporating Korean into my future music. There are a few Korean artists and songwriters that I hope to collaborate with, and I am still open to pursuing songwriting for K-pop groups.
AM: You've gone viral for your cosmic looks in the past, even getting the attention of Missy Elliot and major pages like Afropunk. How important is virality and social media to your musical journey and what have you learned from it?
R: Virality is an interesting thing to experience. Having so many eyes on you at once was previously unforeseeable. Something that I've learned from that experience is that when you have those moments you have to optimize and keep the momentum going. I hope to be better prepared for a moment like that again in the future.
AM: You've been doing live performances lately. How do you go about preparing for concerts?
R: I rehearse every chance I get. Whether that's standing in front of a mic stand in my bedroom, singing in the shower, or a rehearsal space—I'm giving it everything I have. I'm pursuing progression without perfection. I know that the first show won't look like the ninth. I'm going to learn from each performance and enjoy the experience. 
AM: Who would be a dream collaboration for you?
R: Some of my dream collaborations are 6lack, James Blake, Doechii, JID, DEAN, and Ravyn Lenae.
AM: What are your goals from here? What are some milestones you'd like to hit?
R: I have so many goals! I would love to release a visual album, score a film (maybe horror?), and win a Grammy one day—in fact why not an EGOT. I think all are achievable, and I'm actively working toward these goals every day.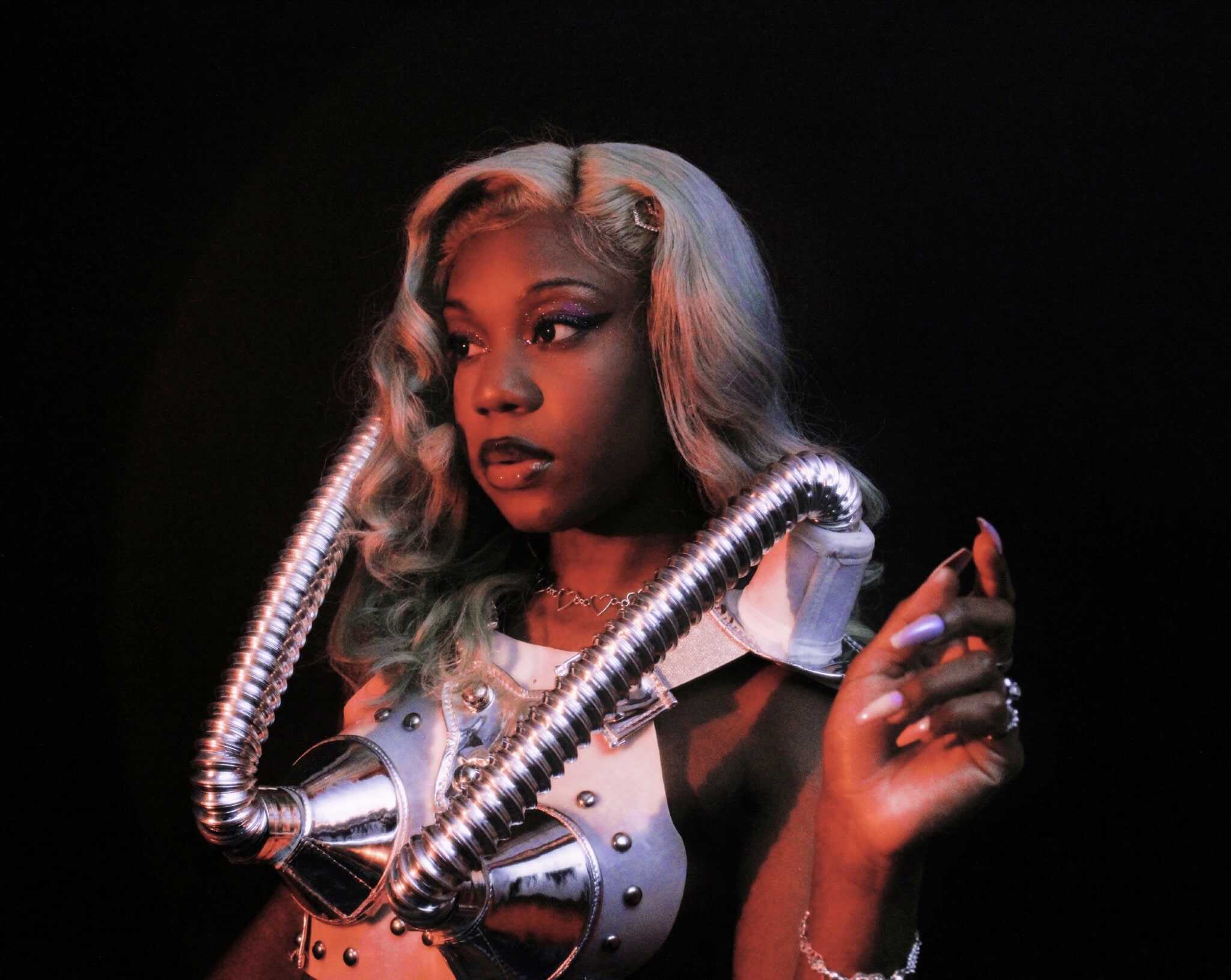 Published on November 15, 2023
Ashlee Mitchell is a Gen-Z writer, actor, host, and content creator with a focus on Black and Korean pop culture. She has interviewed prominent artists such as BTS, J-Hope, Saweetie, and Stray Kids, and her work can be found in publications including Teen Vogue, GRAMMY.com, MTV News, etc. She loves to travel and can be found anywhere from Seoul to Los Angeles. You can follow her on Instagram @ashlee.luvv or on Tiktok, Twitter, and Youtube @itgirlash.