Asian American men have always been hot, and Western media is finally catching on. After decades of being emasculated in Western media as sexless nerds and comedic foils to "masculine" American (re: mostly white) film heroes, a wave of Asian diasporic male actors like Simu Liu, Kumail Nanjiani, and Henry Golding are finally being cast as desirable sex symbols. When it comes to the "other" film industry, however, Asian American men are still so few that even those familiar with the porn business can name…none?
Cue Taiwanese American porn star Leo Vice: six feet of rippling muscle, a prodigiously performing penis defying Asian male stereotypes, and shoulder-length tousled locks that beg to be tugged while contorted in acrobatic positions. The 38-year-old Bay Area native left his corporate job in video game development to start doing porn in 2020, and since then has shot for major studios like Brazzers as well as creating his own content and regularly collabing with top names in porn, like his current girlfriend and first black AVN Female Performer Of The Year Kira Noir. He currently lives in LA and is rapidly building a reputation for giving funny, insightful interviews on podcasts such as Fun With Dumb and Under The Influence.
Vice's Pornhub profile reads: "'Be the change you want to see in the world.' Just trying to do what I can to bring more Asian male representation into the porn world"
Well, does it even matter if Asian males are represented in the American porn industry? Part of the insidiousness of structural racism is that it doesn't allow non-white people to be "whole humans," or to start on a blank slate. As Frank Chin famously pointed out in his "racist love" thesis, Black/brown males are emasculated mentally and emotionally as men who are not as booksmart, and can't hold down a job or a family, etc., while East Asian men are emasculated physically, as sexless robots. The flip side of cultural emasculation is that it can create a lot of misdirected anger and frustration, and as New York Times journalist Jay Caspian Kang investigates in his book The Loneliest Americans, there's a whole movement of MRAZNs (Men's Rights Asians) protesting their emasculation yet worshiping white women.
Objectification doesn't equal representation, and representation doesn't mean equity. But having somebody as level-headed, openly feminist, and frankly hot as Vice representing Asian male masculinity in the sex-positive space helps to counter the frustrated narrative of MRAZNs and provide more nuance to the conversation.
I caught up with Vice via video chat recently, to discuss representing Asian masculinity in the porn industry, what it's really like having sex in front of a camera crew, and the craziest porn shoot he's done.
This interview has been edited for clarity and length.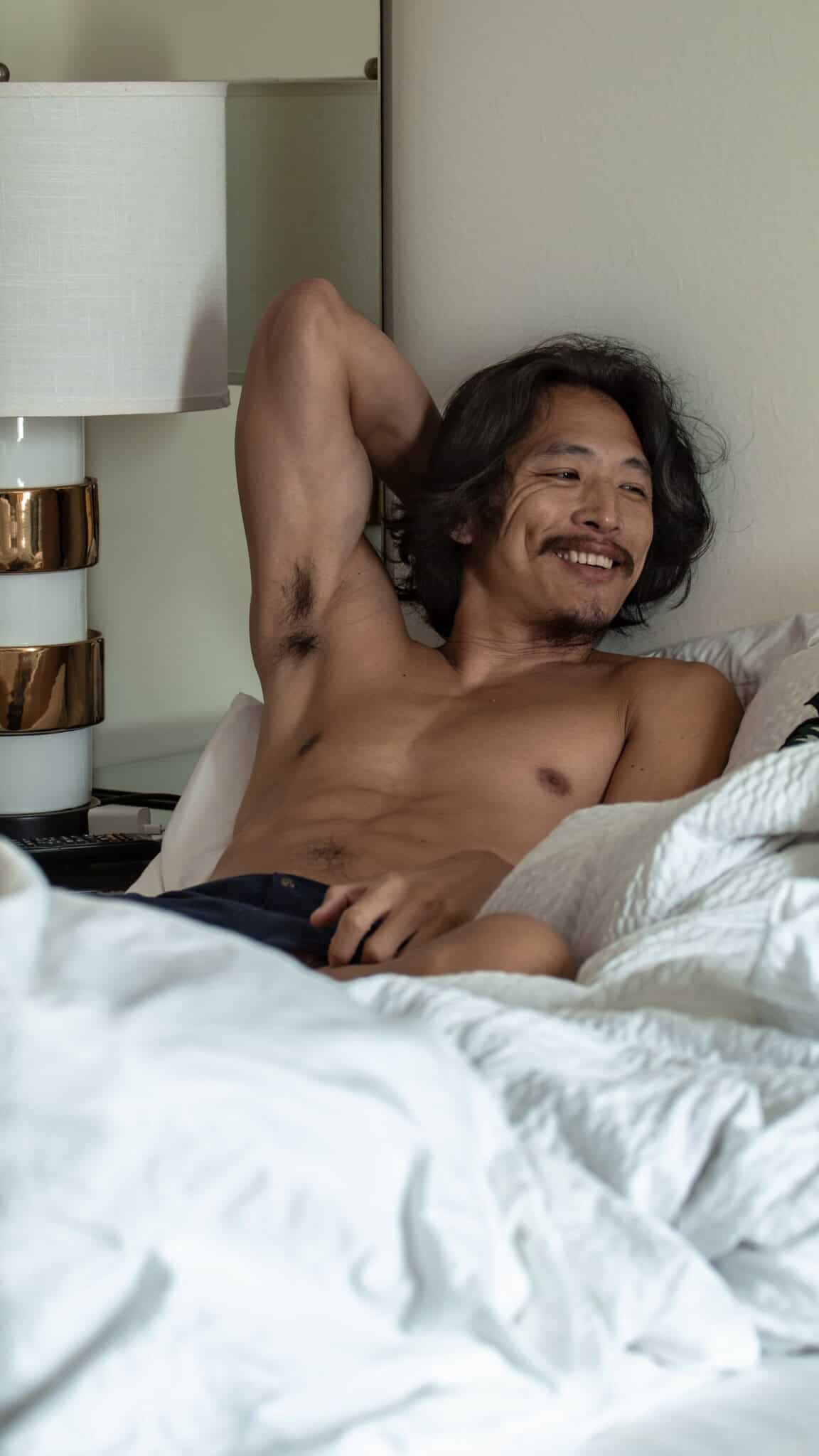 Clara Wang: What were you like as a kid? Were you pretty shy, good with girls…
Leo Vice: Being the only Asian kid in the community and being singled out and picked on for my alien-ness, I was a fairly shy kid. I didn't lose my virginity until I went to college and was 18 years old. I had a high school girlfriend who was German and Mexican, but at that time I was still thinking that the girls who found me attractive were few and far in between. So it took the college experience to break myself out of my own self-imposed prison of like, "only Asian people will find me attractive."
CW: Getting into porn as a straight male performer is much more difficult than it is for women or gay men. Considering you already had a pretty established career in video game development, why and how did you get into porn?
LV: This one person I was hooking up with had friends who were starting a full 360 VR porn company out in Las Vegas. At the time (2018) I was working in the video game industry, so VR technology was like the hot buzz, everyone was talking about it; it seemed like a reasonable thing to invest some money into their startup company. So I bought my first ticket to AVN (Adult Video News awards are a three-day convention culminating in a cable-broadcasted awards show, like the Oscars of the adult film industry) to do some research on what the porn industry was doing in the world of VR at the time. And that's when I got introduced to the actual porn industry itself. I'd been walking around for like three days, and the girls kept seeing me floating around. So they eventually would start stopping me and kind of talk to me and flirt with me. And they'd be like, "Oh, you're cute, like, have you thought about doing porn."
At that time, I still had a belief that I think a lot of Asian men have, that the porn industry is racist, they don't want you. But when the talent is saying you should do it, it's like, "At least some people believe in me," right? That planted the seed and the idea of me getting into porn. At that point, I was also getting a little disillusioned with my corporate job as well. The glitz and glam of the video game industry was peeled back and I was like, "Oh, this is still just a corporate job with me getting commands top-down from somebody on the other side of the country." I started looking for what my next step is. While my dream would be to make skate videos all day long, there's no money in that. So what else can I do that would give me creative control and pursue filmmaking? Porn seemed like the right step. There's always money in porn, you can be your own boss, you could be in creative control. Having been to the AVN convention, talent was willing to work with me. I could just bypass the rest of the hurdles and start my own production.
I also hope that what me and other fellow Asian performers like David Lee and James Bang are doing for the porn industry is kind of the same thing that actors like Steven Yeun are doing in the mainstream film industry.
CW: The double-edged sword of fetishization/hypersexualization of Asian females and the perceived emasculation of Asian males can be so insidious because a lot of Asian American males growing up in the West internalize these stereotypes and start defining their lives by these strictures, which sometimes I think compounds toxic masculinity because they fantasize this aggression out on women they think they "deserve." How do you think that we can increase this representation of API men as sexual beings for a fuller spectrum of what we are as people without stepping back into toxic masculinity?
LV: I try to push what I call "positive masculinity" to try to combat the sea of toxic masculinity out there. I think representation matters—when you see people who look like you in any type of media doing all sorts of things, you start to believe that you can be the protagonist of your own story. I think the problem with Asian men in particular is that we have side character syndrome. Even Jackie Chan, Jet Lee, Bruce Lee, the American movies they do are so desexualized. In Romeo Must Die the test audience was weirded out by an Asian man kissing a Black woman, so they removed the scene and replaced it with a hug.
Now Asian men are getting a lot more positive representation in the media that doesn't depict them as martial arts experts and that also allows them to have romantic love interests. I also hope that what me and other fellow Asian performers like David Lee and James Bang are doing for the porn industry is kind of the same thing that actors like Steven Yeun are doing in the mainstream film industry.
CW: What are some things most people don't know about porn?
LV: It's a lot more like filming a movie or TV show than filming a documentary. There's the prep, the discussion beforehand on dos, don'ts, likes, dislikes, etc. There's a general consensus of what positions we're going to do and how we're going to maneuver so we're not awkwardly fumbling around, and definitely a concerted effort on angles, where the camera is set, the lighting, a certain amount of stopping, readjusting, and starting again.
Also, a lot of guys think they can do this and don't realize how difficult it is with a roomful of people watching you, with a talent you just met 30 minutes ago and didn't have time to talk to. Sometimes the things that look aesthetically pleasing are the most uncomfortable places to have sex. I've had sex in some absolutely gorgeous bathrooms, but every surface is hard and sharp.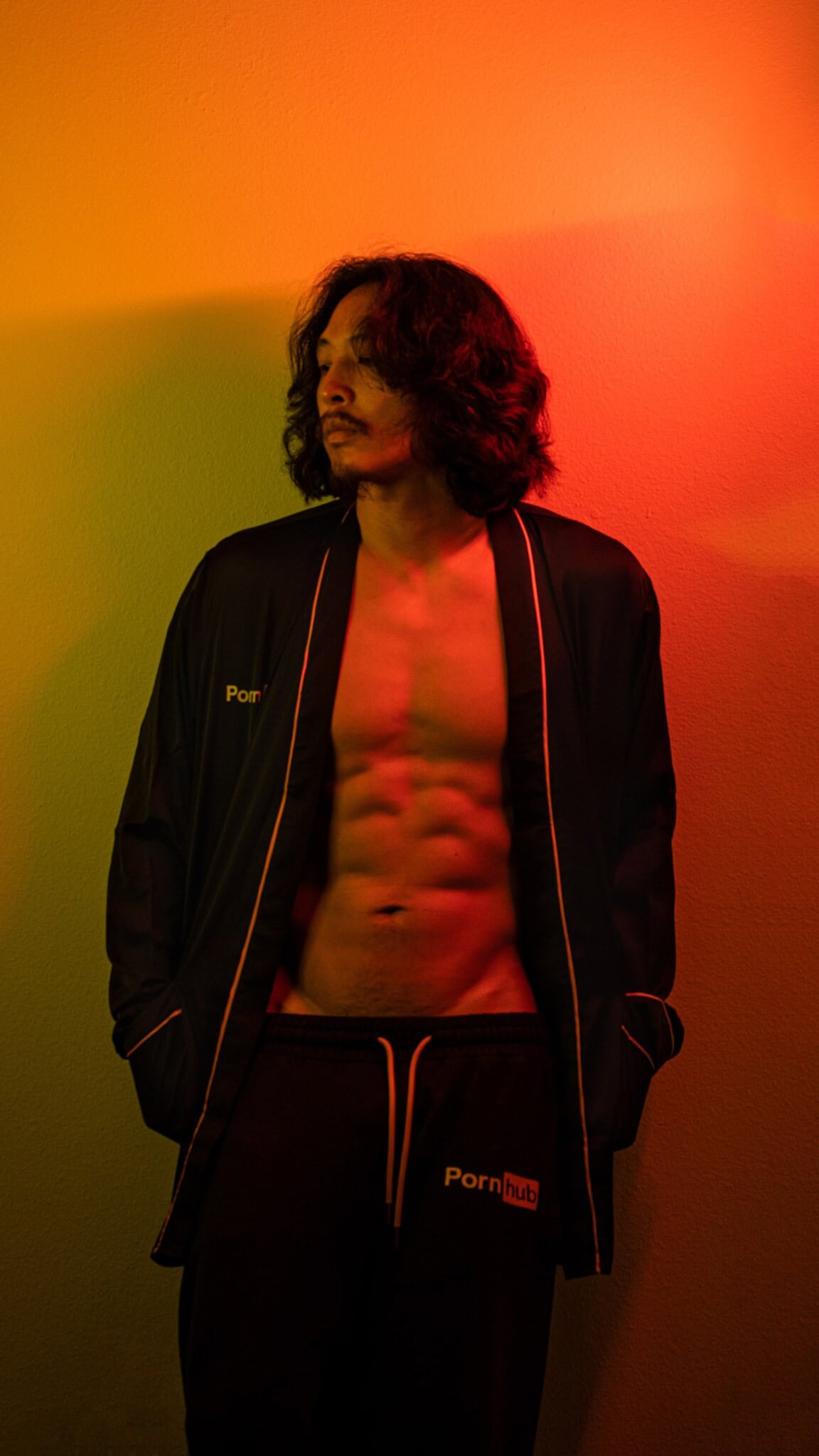 CW: Some studio porn shoots involve a lot of role-play and sexy re-enactments. What are some fun roles you've been able to play in porn?
LV: One recent shoot that was pretty fun was a 1950's-themed shoot. I technically had no speaking lines, so it was an easy day for me to just show up, get my hair and makeup done to look the part, and then just have sex out by a pool and get paid. We had to trim my hair a little because apparently no men in the '50s had hair as long as mine, so we had to cut it a bit and put it in a pompadour. We found a house that fit the aesthetic, it was a really fun and interesting scene with how much makeup and wardrobe we had to do.
CW: A lot of porn stars aren't necessarily actors, and don't enjoy acting when they get roles with longer scripted speaking lines. What's your take on acting, and how do you get into it when preparing for a porn role with more acting involved?
LV: I do and I don't like acting. I like pretending to be a different character and being able to play different roles and ranges and things like that. I don't like acting because I don't actually have an acting background. So it stresses me out and makes me nervous. Because you know, it's like, as much as I memorize the lines, in the middle of the scene, I'm so busy trying to think of what my cue is that I start forgetting my own lines and so forth. So like, there are times where they've let us ad-lib a lot more and just kind of make up the scene as we go along. And those are super fun because you get to act and you don't get to worry about messing up your lines and stuff like that. But when the dialogue is much more curated, it's fun but nerve wracking because I want to do such a good job of acting, but I don't actually have background and experience doing it.
CW: What's the craziest thing you've done in a porn shoot?
LV: There's a couple things, but I would say the most unique one would be a Brazzers scene I did with Angela White where she was a Peloton instructor and I was her assistant and I ended up having sex with her on a Peloton bike.
CW: That sounds really dangerous. Is that why Peloton got sued for injuries?
LV: The disclaimer was, "We're not actual Peloton instructors, so don't really do what we do."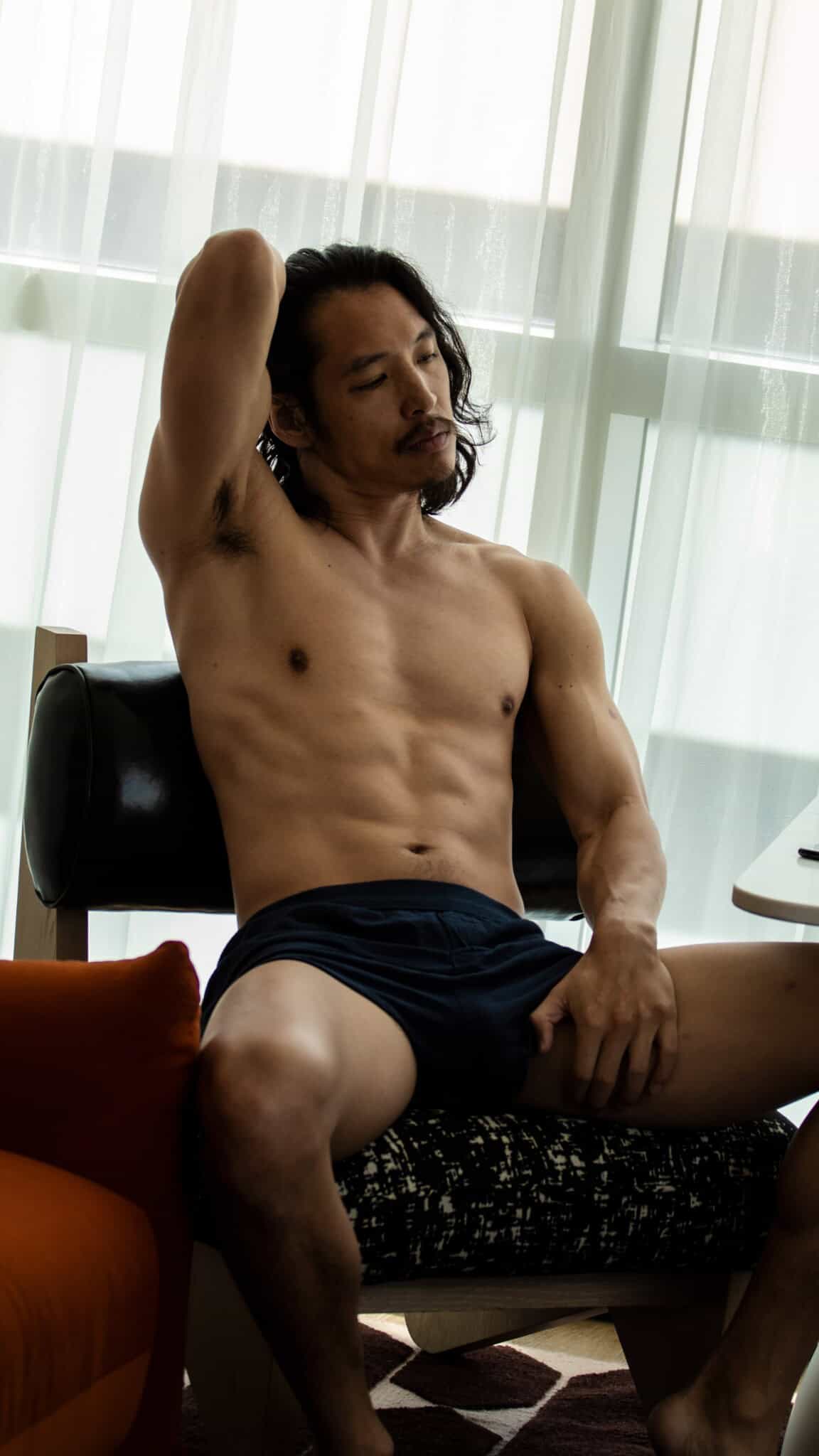 CW: What's the most awkward part of porn as a male performer?
LV: There's definitely going to be times where you're having an off day, you're not mentally there. There's awkward moments where you're having to keep yourself hard while the crew needs to go change the battery or the lighting or something and you're kind of just sitting there stroking your dick and trying to have a conversation with the crew, like, "What's everyone's weekend plans, how's everyone's day going? You guys hungry for dinner? I'm ready to eat after this."
There's a lot of moments like that in between shooting where we're naked, kind of half-prepped for sex, and have to stop for whatever reason and everyone's just cracking jokes and someone's running off to go pick up DoorDash because it showed up in the middle of the scene.
CW: If you could distill it into one sentence, what advice would you give to Asian American males who want to get into porn?
LV: Be professional. This is a career, this is a job, this is people's livelihoods. Be professional with how you carry yourself, be professional with how you approach other performers. You're starting a business and a brand, and if you're not carrying yourself as a professional then you can't be confused as to why nobody treats you as a professional in this field, right?
CW: Describe your life in five words.
Constantly chasing happiness and freedom.
Published on November 14, 2023
Clara Wang is a freelance writer spending the year in Nashville who mostly muses about food, culture, sex, and the unbearable lightness of being a 5'0" Yellow girl quicker on her feet than Borat's lawyers. Her work has been featured in publications such as Eater Austin, BuzzFeed, Refinery29, the Austin Chronicle, the Austin American Statesman, Daily Dot, and Giddy.