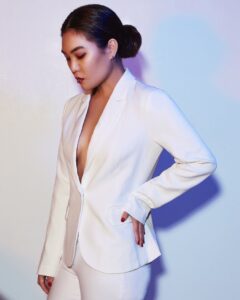 Photography by Lauren Nakao Winn
Mixed Asian Media: JoySauce is proud to present something very special—a partnership with the ultra talented team over at Mixed Asian Media. In JoySauce's mission to cover stories from the Asian American and Pacific Islander diaspora, we've always considered it incredibly important to include mixed AA+PI perspectives. Since their team already has that piece on lock, we're delighted they were willing to join forces to help us share even more fresh, funny, interesting, irreverent stories each week. Take it away, MAM!
---
On Japanese Breakfast's 2017 album, Soft Sounds from Another Planet, there's a track called "Jimmy Fallon Big!" It's a song about one of the band members who previously departed to join another band, saying all the while that they were going to become famous enough to become "Jimmy Fallon big."
In March of this year, to promote the new album, Jubilee, Japanese Breakfast performed both "Jimmy Fallon Big!" and the single, "Be Sweet," on The Tonight Show Starring Jimmy Fallon.
"I feel like this has just been the wild year of all my dreams coming true in the sort of bittersweet moment of it happening, but not fully," remarked Japanese Breakfast frontwoman, Michelle Zauner, on the experience. "I mean, it was amazing. It was really great. It's odd because it was pre-recorded. So, we didn't actually get to meet him or play in the studio, but it's very much a large achievement, and it was really wild to see him hold the record cover and talk about the album for so long."
The wild year of her dreams coming true that Zauner described isn't just limited to her album. The following month, her memoir, Crying in H Mart, was published and quickly became a New York Times bestseller. Her team surprised her with the news on a Zoom call, originally thought to be a tech check for her virtual book tour.
"There were 30 people in the Zoom, clapping with Crying in H Mart in the background, and I just lost it," she recalled. "I cried a lot. It felt like such a huge moment. It's maybe one of the greatest achievements of my lifetime [in] that moment, and I definitely have a bigger head because of it. It was one of those things that's attached to your name forever. I've done a lot of really incredible things, and I've never gotten something like that."
Both writing and music have always been mediums Zauner is passionate about. Her willingness to pursue the two of them came from their relation to one another. As she elaborated, "I would consider myself a songwriter before a musician. I think that writing lyrics and telling stories in this way was more interesting to me, was the reason why I got involved in music in the first place. And I think that I'm just fascinated by people and our lives and our relationships to one another, and how we love each other, how we hurt each other. I think that both of those things are ways of exploring that."
As a mixed-race Korean American, Zauner has never really drawn on her racial identity when it comes to her songwriting process. However, it does take a central role in the variety of topics she covers in Crying in H Mart. As far as navigating the music industry goes, she finds that having an immigrant parent is probably what made her decision to pursue this career path difficult.
"A lot of Asian parents in general have that kind of concern," she noted, "but I think that beyond not having that many role models, that was maybe the main challenge, was just it's a very white, male-dominated industry. So, it often felt impossible in some ways breaking into it, but there're so many difficult things about breaking into the music industry in general, that it's hard to know which ones have anything to do with my racial identity."
The idea for Crying in H Mart has been in existence for several years. The seed of the idea came out of an essay she wrote in 2016 for Glamour Magazine called Love, Loss, and Kimchi. When she went on tour with her band to Asia in 2017, the writing process began when she decided to stay in Korea for six weeks.
"It started out as this cute little essay about Maangchi, the YouTube blogger," she said, "and in the process of writing this story, I realized so much had happened. It was just a whirlwind of a six-month period where I lived in Eugene, took care of my mom, and brought up so many things that I had never thought about or encountered before."
Her 2018 essay, also called Crying in H Mart, was always the first chapter of the memoir, she said. When it was published in The New Yorker, readers quickly connected with her words, and numerous agents and publishers reached out to Zauner. The response was what gave her the validation she needed to see this project through to the end.
Always an open book, Zauner dives into a lot of details about her personal life in Crying in H Mart. She credits her background as a musician, where she already infuses her personal life into her work, and that the deeper she goes, especially with taboo or shameful topics, is where "a lot of the great meat is."
She did have some concerns regarding how her book would be received by Korean American readers. While she had a feeling that the experiences unique to her life would feel universal among mixed-race readers, as she further explained, "There was always a question of is this just something that happened in my family, or is this a Korean thing? I definitely had a lot of fear, and there were some friends that I asked about certain things to see if that was a common thing, or just a weird thing in my family."
Despite any concerns she may have had before, she has since received numerous responses and moving messages, expressing nothing but praise for Crying in H Mart.
Both Zauner's memoir and Jubilee are both projects created pre-pandemic that are just now seeing the light of day. She was on break from working on the book when she created the album, which was completed in December 2019. After devoting Crying in H Mart and her first two albums to the subject of grief, Zauner was very intent on doing an album about joy.
"I just really desired making a record that felt like I wasn't excavating my deepest trauma and getting interviewed about it nine times a day," she explained. "I was really excited to write about something else, and then talk about something else, and this other big part of my life. So yeah, it was actually just a real relief, and it's such a broad topic that it felt really exciting to write about."
Zauner remarked how she felt much more confident going into this album following the insular process of writing her first book. As she explained, "When I shifted gears to work on the album, it was like falling back into a familiar bed. I felt a lot more confident about, 'Oh, this is something that I know how to do.' I've done this for many years, and it's a lot more collaborative and enjoyable, and it was a really fun thing to get [to] return to, and kind of shift focus for a while."
With the fact that it's been four years since she last put out an album, Zauner does feel some discouragement in there being a gap between albums. While she bears in mind the reality of touring and writing her memoir in between time, she feels the pressure to deliver and make things grander, as her following continues to grow.
As if her plate wasn't full enough already, Zauner also has the release of the video game, Sable, that she did the soundtrack for, to look forward to later this year. While it was originally announced back in 2018, she explained how it's been delayed a lot. 
"Games are such a fickle beast," she said. "They take a long, long time to make a world. But I think that it is finally coming out at the end of this year."
Zauner will be going on tour starting this summer to promote Jubilee. All performances are scheduled to be in-person. Asked if she has any expectations for what that first performance back onstage, in particular, is going to be like, she believes it's going to be very weird.
"I'm sure we're going to be very rusty, and it's going to take a few shows to kind of shake that off," she said. "I'm trying not to think about it too much honestly, because I feel like things are so unexpected, and we've had our expectations so fucked with that it's better to not think about it and just be happily surprised when it does happen."
Zauner is remaining optimistic about the tour ahead and believes that the shows will be happening. "I think that it will be a really, historically special time for music," she added. "Those shows coming back into the world, I think they're going to be really emotional, and I'm almost afraid about how emotional it's going to be."
This story was originally published on Mixed Asian Media in June 2021. 
Published on August 25, 2022
Words by Lauren Lola
Lauren Lola is an author, freelance writer, playwright, and screenwriter from the San Francisco Bay Area. She is the author of the novels, An Absolute Mind and A Moment's Worth, as well as the upcoming graphic novel, Dasig. She has written plays that have been produced both virtually and in-person for theatre groups on the West Coast of the United States, and has penned the short films, "Breath of Writing" and "Interview with an Aswang." Aside from Mixed Asian Media, Lauren has also had writing featured on The Nerds of Color, CAAMedia, PBS, YOMYOMF, and other outlets and publications. You can find Lauren on Twitter and Instagram @akolaurenlola and on her website, www.lolabythebay.wordpress.com.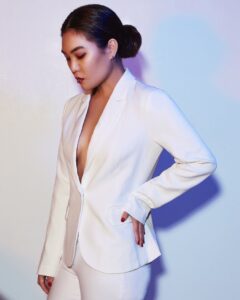 Photography by Lauren Nakao Winn
Lauren Winn is a pop culture whackjob who works in fashion. She is a sucker for genre-meshed aesthetics, a textbook workaholic, a bonafide digital media queen, and the sum of many rotating hyperfixations. If you want to get on her good side, greet her with a LaCroix or follow her on insta @laurennakaowinn.