Mixed Asian Media: JoySauce is proud to present something very special—a partnership with the ultra talented team over at Mixed Asian Media. In JoySauce's mission to cover stories from the Asian American and Pacific Islander diaspora, we've always considered it incredibly important to include mixed AA+PI perspectives. Since their team already has that piece on lock, we're delighted they were willing to join forces to help us share even more fresh, funny, interesting, irreverent stories each week. Take it away, MAM!
---
As my weary fingers type these words and a heavy head tilts to one side, it becomes evident that this old chunk of coal has been in the theatre business for a long goddamn time. These days, I suppose "theatre-adjacent eccentric" is more accurate. Or "embittered former theatre professional" really hits the nail on the head. But during my decade-long tenure as a full-time Broadway journalist and an entire life as an obsessive fan of the art form, I've witnessed a lot of incredible talents and interviewed countless brilliant practitioners thereof.  
In all of this time, there has been none I've been so excited to speak with as a man named George Salazar. A beloved stage presence for years and now a familiar face on the small screen, Salazar delivers the full package and represents the kind of change in representation we've been needing since the beginning.
Boasting a thrilling and enviable tenor voice while carrying an irrepressible boy-ish charm and brilliant comedic chops, he has delivered showstopping performance after showstopping performance on a regular basis since he burst onto the Broadway scene in 2011's Godspell. I first heard his name and saw his face a few months prior to that debut, when he popped up in a photo feature I curated for the touring production of Spring Awakening.  
I vividly remember sitting at the desk in my obscure midtown office space when his face popped up in castmate Rachel Geisler's snapshot gallery. I recall thinking that he looked refreshingly different from the usual "type" we've been seeing for the last century of Caucasian-centric Broadway. I was intrigued and curious, and his face stuck with me. A few months later, I saw him blow the roof off of Broadway's Circle in the Square Theatre with a stunning "Light of the World" solo and thought to myself, "Ah, there it is!"
Since then George has been a regular face and voice on the musical stage. He appeared in the fabulous Here Lies Love in a number of tracks and originated the roles of Michael in Be More Chill and Grover in The Lightning Thief, earning Drama Desk nominations for both. Just before the pandemic, he took on a leading man assignment as Seymour in Pasadena Playhouse's celebrated Little Shop of Horrors opposite MJ Rodriguez and later returned for their staging of Head Over Heels.
The American actor of Filipino-Ecuadorian descent can now be seen as Eric Sosa on television's smash hit comedy Superstore and as George Conway on Impeachment: American Crime Story.
George recently took a generous amount of time to speak with a fellow Mixed Asian Man by the name of Me. He discusses his background, career, pandemic experience and hope for a glorious and inclusive future in the following interview.
Since it's been a crazy time for all of us, I'm just curious how you spent the last two years of on and off shutdown?
During those, I would say, first six months of the pandemic I did a lot of Zoom stuff. I did a play with Nikki M. James. I did a bunch of concerts. I had my own YouTube show that served as kind of a talk show-slash-telethon where we did nine episodes and raised about $10,000. I felt super helpless, as a lot of us did, and didn't know what to do. But thanks to Be More Chill I have this incredibly supportive following of young people who are the most compassionate human beings of all time, and we all banded together and raised money for a different charity each episode, chosen by the guest. 
So I kept myself busy with that. 
Right before the world shut down, I got to join the cast of Superstore as Eric, America Ferrera's brother and Nico Santos' love interest and in January of 2020, I booked American Crime Story: Impeachment, where I played another mixed Asian, George Conway, who's Filipino and white. It was incredible to get to work on those shows, but shooting a television show during a pandemic was weird and terrifying too, you know?
A lot of testing, I'm sure! So both of those projects got delayed at the start of the pandemic, and then you were able to resume them?
Yeah, we took a little bit of a break and then we started up with Impeachment. I think I shot my first episode in September or October of 2020, and around that same time we started season six of Superstore.
It was a wild time, but I was very grateful to have those two jobs to kind of keep me feeling sane. Since then I've really found a way to be okay with downtime and to not let my career and my art be who I am 24/7. That was a positive from the pandemic, learning how to be okay with some downtime. 
Just being with yourself and not feeling like you have to hustle all at the time.
Exactly. You know, I'm 35 now, but I still mentally and professionally feel like I'm 22 and I have to prove myself to everyone. So that was a really nice lesson in self-value and self-worth.
That's wonderful. I think in being forced to just be alone and not always creating, not always competing, not always hustling, people found other outlets for it or channeled it positively like you did.  Now, since we haven't talked before, could we just go all the way back to where you were born and raised? What do your parents do? Are you from a theatrical family? 
So I was born in Staten island. I was raised in Kissimmee, Florida, 15 minutes from Disney, 15 minutes from Universal. My mother is now retired. She's Filipino. She was — surprise — a nurse, and is now retired. My father is kind of a jack of all trades. He's from Ecuador and came to the States when he was about 8. And he was pretty much on his own at 16. Didn't go to college. My parents, their love story and the story of the life that they built is a real immigrant "American Dream" story. We were not a theatre family.
My dad is a drummer. In the 80s he was in a couple bands, and they were really trying to make it in New York City. My mom one day just had the conversation with him and was like, "Look, we are starting a family and you can't be out until five in the morning. I need you." So he really focused on being a family man and providing for his family, and he's done so brilliantly. But I feel like I was being kind of nudged towards being a doctor, which is also like all of our stories. And I was all about that life.
And then in high school I got tricked into auditioning for a musical and fell in love with it. My mother was quicker to be like, "Artista!" She was very quick to embrace the idea of me being an actor. My dad, on the other hand, having attempted a career in the arts… my dad was less excited about the idea.
He very much comes from the camp of, "I want you to be able to live more than comfortably." And the odds of that happening as an artist are very low. And so it took him a little bit. I think recently, now that he's gotten to watch me on television, it's like he drank the Kool-Aid and he's in for the ride.
What was that high school show? 
Little Shop of Horrors!
And were you Seymour?
I was Seymour! And it was a multicultural production. I had a black Audrey. We had two Puertorriqueñas as the urchins, a white urchin, a Puerto Rican Orin. It was like the Little Shop of my dreams, and it really set the bar for me. So then when I ended up doing it at the Pasadena Playhouse with MJ, I was like this is really crazy.
Jumping into that second Little Shop. On paper it was pretty unconventional, because people are used to certain casting choices. To have a female Audrey II, and a trans Audrey, and an ethnic Seymour at a major regional theatre, it just felt so groundbreaking. And this wasn't even your first foray into playing Seymour in a differently-cast Little Shop. How was it received by the local audiences? I know it got some really good national coverage.
It was received better than I could've ever hoped. And you know why it was received so well is because, sure, everyone spoke of it as this really groundbreaking and unconventional thing. But when you sat in the theatre and watched the show, it made complete sense that these were the people living in this world, singing about these things. You would think that conceptually we'd have to do some real digging or changing of story, but it just fit us all so perfectly. And people who came to see it felt that and felt represented and seen by it.
And we brought in a completely new audience to the Pasadena Playhouse. I love Pasadena with all my heart, but it's very white, it's very rich. But it was the first time in my career actually that I was onstage and I would look out in the audience and I would see a sea of people who looked like me, a sea of people who came from the same story, who lived similar life experiences.
So it felt a little bit like church in that we all understood it and we all got it. It was the most beautiful thing. It breaks my heart that the run was so short and we're not doing that production in New York.
I was gonna ask about that, if there were any way that this production was going to have another life on another stage or as an album… 
If given the opportunity I think that Danny Feldman, the artistic director at the Pasadena Playhouse, would do everything in his power to give that production another life. It was a beautiful, beautiful thing to be a part of. And for me, being someone who lived in New York for 13 years and moving to a new coast and really a new world, it was the perfect way for me to transition to the West Coast.
We tend to think of pre-pandemic as being more carefree because we had no idea what was going to happen. But hearing you talk, in a sense, it was the opposite. There was that pressure at that time to always be juggling a million things. And then six months later it became just, what am I going to eat today? 
And also always trying to be someone else's idea of me, right? The undeniable reality of the pandemic was that we, as a society, went through a huge reawakening. I learned so much about my own faults and my own biases and my own brainwashing; the gaslighting. There was a time — and I speak very openly about this — but there was a very long time in my career where I prided myself on being the only Brown person in a room. I never saw that as like, this is fucked up!
"I'm the one who made it. I'm the one they chose…"
And that's horrible. Somewhere along the line, I was duped into believing that was a sign of my success, that I was the only one in the room.
And so really sitting through a pandemic and looking at myself in the mirror and re-evaluating and thinking about the brainwashing I was put through, through education, through college, into starting off in New York and to being on Broadway. It was really upsetting, but it is the thing that I'm most grateful for, that pause where we had no choice but to face reality.
A lot of people lost loved ones, and it was a really dark time for so many of us, but I've always been the eternal optimist. And so through all of that darkness, I feel like I came back reborn in a way, as cliche or silly or corny as that sounds. I really do feel like I grew up.
Just to be able to take from all of this darkness and come out on the other side a better person is really the most you can hope for when everything is out of your control.
That was the success that I found from the pandemic, was the personal growth. I just did Head Over Heels in Pasadena with Tiffany Mann who I did Be More Chill with. We had this beautiful heart to heart where she was like, "George, it's nice to meet you." She was like, "You are a different you. You're still you, but I feel like we're being reintroduced to each other in a really beautiful way."
I loved that and it really stuck with me, because when you're going through your own change it's very hard to find those markers.
Just the affirmation that growth has been continuous through all of this trauma and that somebody that you've worked as a family doing a Broadway show eight times a week. For them to re-meet you, must've been just so heartening to hear.
So more on the background note, I'm just curious about your upbringing. It sounds like you had strong influences from both of your cultures.
To be honest, I actually identify more as Filipino because my dad was sent up to the States and was raised by relatives at an early age.
My father doesn't really have strong cultural roots in Ecuador. Growing up, the food that he made for us was like, "Let's make pizza bagels." Whereas my mom's cooking was "Sinigang, lumpia…" So culturally I identify more with my Filipino heritage.
It's something that I very much appreciate about this publication. Being mixed, we all go through a very difficult identity crisis in trying to balance out the two sides of our being and wanting to honor both equally. I've never been to Ecuador, but I've been to the Philippines twice, you know?
In the last couple of years of my life, I've connected more with my Ecuadorian roots now that my grandmother lives in the States. But still I do feel a stronger connection to my Filipino culture and heritage. 
As a mixed person, even just within your family, you really don't know sometimes which side you identify more with. Who am I supposed to be? Not feeling included or feeling you aren't "enough" of one or either culture. I realized it ties so much into the successes of The Lightning Thief and Be More Chill, which both deal with themes of not fitting in and not being part of the mainstream or one of "the cool kids."
These shows resonate so well with people who don't feel they fit in for whatever reasons. In your personal experience while growing up, did you struggle with that? It sounds like you were in a fairly diverse neighborhood.
I was, but I don't speak Spanish. People see my last name and they just assume that I speak Spanish. I don't speak Spanish. I don't speak Tagalog. When my parents moved here and they started their family, they really wanted to be American. So there was no emphasis put on learning their native languages. Just be American and speak English.
So with that came a lot of really tricky growing pains where I was often… and honestly this still applies to me today as a 35-year-old in this industry. I'm often not Latino enough, and too Asian to be cast in a Latino musical. Or I'm too Latino and not Asian enough to be in an Asian musical.
So where do I fit in? It was a really hard time growing up. A lot of the kids called me a coconut because I was Brown on the outside and white on the inside.
It's such a process. And certainly being a performer where it's so much about how you're perceived. Where every time you're being considered for a role, it's about what do I look like? How do I fit into the aesthetic of what they're going for? Has it been a particular challenge in your career as a performer?
Yes, but as we start carving a place for ourselves, those productions, those opportunities like Be More Chill and The Lightning Thief come through and it doesn't matter what we look like. You get the job because of what you bring to the table.
I remember in the audiences you'd see people crying and screaming, and you just saw people who maybe felt like they weren't usually seen onstage. There are not historically a lot of teenage-oriented shows on Broadway to begin with, but also to have something representing the underdog or the outsider. Did you have any stage door moments or messages from fans about what it felt like or what resonated with them?
You know what was so crazy about it? I'll speak specifically about Be More Chill. During our Broadway run I'd go out of that stage door and like 90% of the crowd outside were white. And somehow these people were telling me that they felt so seen by my character and by my performance.
So that was powerful for me because that taught me that the art that I got to be a part of, specifically in Be More Chill… it was universal and it transcended skin color, race, ethnicity.
They weren't focused on, "this is a Latin guy." They were focused on the heart of Michael. 
The show ran for six months on Broadway, but I see it as a successful run of a Broadway show because it connected with people on that level. We succeeded.
It touched so many people in its run.
I feel very fortunate to have been a part of that. And then we go into Little Shop of Horrors where the staff told me that they never had a stage door like that at the Playhouse. You'd walk out and, Matt, it was just Brown people.
Like young Brown people, older Brown people, trans folks. It was just like my dream. Let me walk out of every stage door and find a sea of people like that. That's the world that I want to live in. 
That's the Broadway that we're aiming for. 
Growing up we could never afford airfare, hotel accommodations and Broadway show tickets. Absolutely not. So I grew up never knowing that that was a possibility for me. Pasadena made it accessible. I would walk out of that stage door and see kids who literally look like they could be my siblings telling me how many times they've listened to Be More Chill, how many times they've listened to The Lightning Thief, but that they never got to see those shows live.
Broadway has a lot of work to do to find ways to get those kids in those theatres.
Do you have any words of encouragement or advice for anyone of any age who might not feel like they fit in or who just doesn't feel like they're fully embraced by their culture or their school or the world at large? 
This is easier said than done, but really learn to love who you are. Fall in love with you, and love yourself unconditionally so that you can begin to carve a place for yourself. We oftentimes feel like we have to fit into a mold to feel accepted or to be part of a community, but be unapologetically you and you'll create a whole community of like-minded people. There's a bunch of people who share your experiences, it just takes some time to find them.
And when you do, you and the people that you've surrounded yourself with are going to be so unbelievably grateful that you have all found each other. You'll have someone to relate to when you talk on the phone, someone who will have your back and someone who understands your journey. And if you're an artist, you'll find collaborators to create with.
That's certainly been the goal of Mixed Asian Media, creating that community and being a safe place for shared experiences. Hopefully it's helping people in that way. 
And finally, a couple of bullet point questions.  Any favorite recipes or traditions from either or both of your cultures? 
My partner is Chinese and Jewish, so a new tradition in my life has been making food and sharing it, sharing our cultures with each other. I've been introducing him to Filipino food and breathe a sigh of relief when I see that he likes it all. My personal favorites are kare-kare and lumpia!
And finally, I just wanted to ask if there were any other stage or screen appearances that our readers can keep an eye out for
I just started work on my first film! I can't share any details, but that's been exciting! Another thing that I started doing in the latter half of shutdown into early this year, I started writing projects for TV. One with a Filipino playwright named Nicholas Pilapil, a story about a mixed-race gay guy living in New York and learning to decolonize his own mind. It's sort of autobiographical, a mishmash of Nicholas' experiences and mine. We discovered we have a lot of shared trauma, so we put all of that together and made this really beautiful dark comedy.
And then another comedy with a mixed-race Puerto Rican-Italian friend of mine, Mike Millan, called Sugar Babies… about former twink sugar babies. And then another one that is in the early, early stages about a guy who accidentally starts a cult.
In 2018, I had this incredibly insightful eye-opening meeting with an exec who was mixed-race, and she asked if I had stories that I wanted to tell. We ended up sitting in a bar for like two and a half hours, and I was almost late to my call for Be More Chill. She spoke on the need for more mixed-race stories and opened my eyes to this whole concept of the Loving Generation.
As children of mixed-race households and marriages, we are brought up in this world watching two people see past all of their differences to work together and create a family. And there are a few studies about this, that children of mixed-race couples end up being more compassionate and more willing to understand everyone's journeys, everyone's struggles, everyone's differences. We're just tuned to that. We pick up on that frequency.
My nieces and my nephew from one sister are Filipino and Dominican. I have a niece who's white and Filipino and Ecuadorian, and I'm dating a Chinese Jew. I'm watching our world change and I'm not quite seeing it reflected on TV, in theatre, in movies. People are not quite hip to that, or they're unable to wrap their heads around it.
And so I've made it my mission now to try to focus on telling those stories. Who better to write them than us? The people who actually live it.
This story was originally published on Mixed Asian Media in May 2022.
Published on August 30, 2022
Words by Matt Blank
Matt Blank, an insufferable dilettante known across the globe for his trademark sophistication and unpredictable bladder, has seen some things in his life. And by "things," he basically means musicals. Lots and lots of musicals. In the midst of his 30+ years of watching musicals, he stumbled into an Editor role at Playbill.com, a role as frustrating as it was pointless. Still, this sassy man of the people stayed with the company for a decade, mostly for the parties and nice-looking ladies, but did manage to publish over 7,000 articles and cover five Tony Award ceremonies as his precious youth slipped through his fingers. His work in theatre has taken him to South Korea, Manila, India and loads of other places that don't sound nearly as interesting because they actually aren't. His Twitter never gets used, his Instagram is private, and you don't want to see what he posts on Reddit and 4chan. So please, for the love of God, just don't follow him on social media. Matt lives in New York City with his wife Alex Chester and kitty Mogget, and these days he works on an airplane.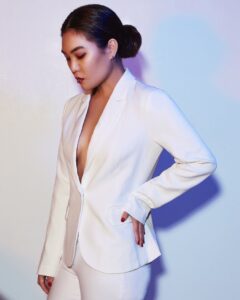 Photography by Lauren Nakao Winn
Lauren Winn is a pop culture whackjob who works in fashion. She is a sucker for genre-meshed aesthetics, a textbook workaholic, a bonafide digital media queen, and the sum of many rotating hyperfixations. If you want to get on her good side, greet her with a LaCroix or follow her on insta @laurennakaowinn.