F*ck Around and Find Out with Anna Lee: This is the modern sex advice column you didn't know you needed, focused on finding confidence in your own pleasure through knowledge and research! Think a fresh reimagining from the days of those pink, star-studded magazine sex advice columns like "10 Ways to Please Your Man" that we all grew up with. In my journey from growing up in a strict, immigrant Korean household, scared of my own body, to my current reality as co-founder of a smart vibrator company and certified sex educator, I realized how much we need to destigmatize the cultural taboo around sexual pleasure. So, hold my hand (if you want to, of course) and together, let's fuck around and find out every nook and cranny of this sexy world. 🙂 
Have a question you'd like me to answer? Keep 'em coming by submitting it anonymously here!
---
Sweet hotties, we have made it to 2023 and let me start it off with a bone to pick with Pantone—yeah, the color company. They announced the Color of the Year 2023 is Viva Magenta 18-1750, but by the looks of your questions in my inbox, it clearly should have been Poop Brown #2. Y'all have submitted so many anal-related, and I'm so here for it. In fact, I'm dedicating this week's entire column to the ass.
Now, let me be very honest and say that by no means would I be crowned the "Ultimate Ass Queen," but I'm a curious adventurer who has seen some shit…and I still enjoy it.
Can you do anal 101? Never done butt stuff, eager to try, but I've heard horror stories about my friends shitting themselves, LMAO. -Anonymous
Yes, we love sexual curiosities and exploration! I could probably write a very long, in-depth article about all things anal: top/bottom, anal masturbation, pegging, the history of anal, anal anatomy, etc. But for now, let's keep it boiled down to the five main points I'd like to have been told when I was first exploring anal: lube, flared base, size, cross-contamination, and poop…or LFSCP for short. Hahaha, kidding, kidding.
Lube: You absolutely need A LOT of actual lube. Not spit. This is a non-negotiable! The anus is not self-lubricating and can tear with friction, which will ruin the fun for everyone involved. I like silicone lubes because they go a really long way compared to water-based lubes, but sometimes I like hybrid or thick water-based lubes for the easier cleanup on non-laundry days. Just whatever you use, use a lot of it!
Flared base: Whatever goes in your butt, like a toy, needs to have a "stopper" or flared base design so that the entire thing does not get suctioned inside the anus and cost you a trip to the ER.
Size: The anus is really elastic but it needs some relaxation and stretching to get it to a place where you can have comfortable penetration. I recommend starting with smaller things like a butt plug, dilators, or a clean finger and give it a few minutes to help stretch it out before you try something larger.
Cross-contamination: If there is a vagina involved, whatever you put in your butthole, don't put it in the vagina afterwards. That is how you get infections.
Poop: Listen. You're playing with poop's transportation method, so it might happen. Even if your high-fiber diet keeps you regular and you did an anal douche. It's OKAY. Everyone involved should fully understand and be okay with the fact that shit happens.
Do straight girls eat guys' asses? -Anonymous
Hell yes, and everyone has the potential and the right to eat ass. Hehe. It's all in communication, trust, and open exploration between partners. The first time I ever witnessed a guy immediately melt into putty the moment a tongue hit his asshole, I was sold on eating ass. It's hot as hell. Once you've had the conversation and consent to try it out, I'd have the anilingus receiver use the bathroom if needed and then take a thorough shower. Have them lie down with a pillow under their butt, scooched towards the edge of the bed, and with their legs slightly bent and open. Start with a flat tongue rimming around and gauge how you both feel. If it's all green lights…have fun my brave, little cave explorer!
Do women actually enjoy receiving anal? -Anonymous
I just conducted a quick survey with the sample size of one woman (me, myself, and I) and the result was…100% yes. In all seriousness though, yes, many women absolutely enjoy receiving anal and it can be for many reasons: an added layer of trust and intimacy with your partner, the taboo nature of it being a huge turn on, the feeling of sensory overload, and simply that it can just feel really, really good. With this said, I could also easily mention a list of reasons as to why many people don't enjoy anal. I'm sure if I actually took the time to open up the survey to thousands of people beyond just myself, we would see a wide range of answers on how people feel about receiving anal. In fact, if I could elaborate on my own answer beyond just "yes," I'd say, "yes, sometimes. It depends." It depends on how turned on I am, if I have lube, how my stomach feels that day, how confident I am at that moment, and how much I trust the other person to be chill if shit goes down. With those criteria met, hell yeah, the anus has abundant nerve endings that can create a lot of sensation, sensitive to touch, and great at expanding. How. Fun!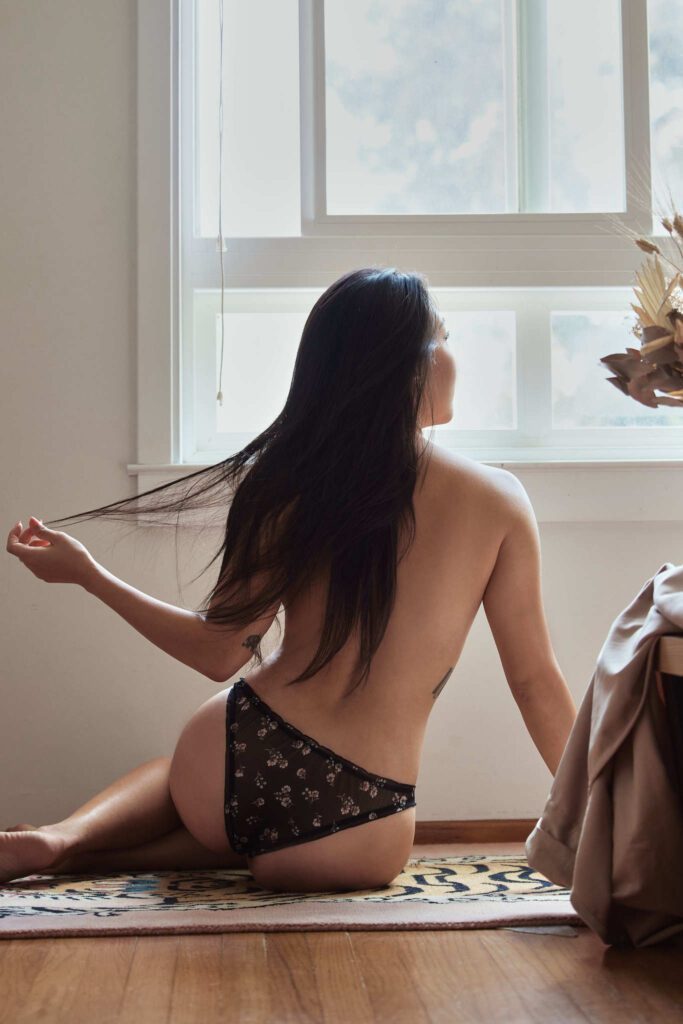 My partner wants me to finger their ass but I have long nails. Do I need to cut them? -Anonymous
I got you, my fellow long-nails stan. 1. Place cotton balls under your nails. 2. Put on snug-fitted, disposable nitrile gloves. 3. Squeeze a generous amount of lube onto fingers and ass. 4. Check in with your partner. 5. Go to town…gently.
What if someone puts their thumb in my butt and then there's poop on it?! -Anonymous
Okay, I promise you this is a more unlikely occurrence than you might think, because poop doesn't typically hang out in the rectum or anus (where you have anal sex) unless you need to poop. So if you're not having that feeling of needing to poop, the rectum is probably empty. If your bowels have not been regular or you've been constipated, I'd hold off on butt activities until it's all resolved. Now, in the case their thumb really does come out brown? Even with the immediate urge to freak out, I'd take a breath and play it cool. Grab a towel, help them wipe it off, get them and yourself cleaned up with soap and water, smile and kiss them assuringly. Then continue the demon activities.
And that's only about one-third of the butt questions I've gotten, everyone. We haven't even gotten to my favorite one that someone submitted that just says, "do a fisting one." I promise, I'm getting to you on the next one. My arm is ready…for typing, you delightful sickos.
Y'all, I promise you that there is truly NO question too unhinged for F*ck Around and Find Out with Anna Lee. Have a question you'd like me to answer for the next article? Submit them anonymously here!
Published on January 24, 2023
Photography by Henry Wu
Henry is a fashion photographer who interweaves storytelling with vibrant aesthetics, and spans luxury fashion to product photography. His photography has been published in Vogue Italia, Elle Singapore, People magazine, L'Officiel, and Men's Health Australia/Portugal. Henry is also the founder, editor in chief of Timid magazine. Timid is a platform to uplift unheard Asian Pacific Islanders stories from around the world. It seeks to reclaim "timid" and challenge racial norms by providing channels for sharing and learning from diverse experiences, empowering and celebrating our collective identity.