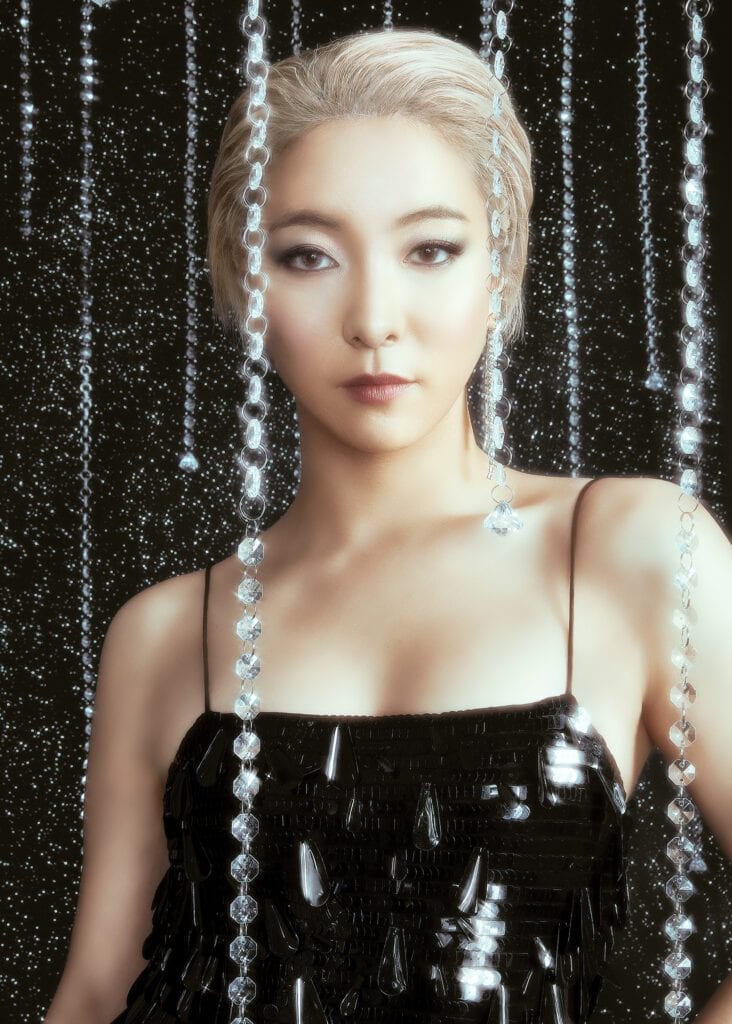 Creative Direction & Photography: Lauren Nakao Winn
Co-creative Direction & Styling: William Noguchi
Hair: Isaac Davidson
Makeup: Sarah Fiorello
Set Design: Jovita Tedja
Photo Assist & BTS Photography: Kevin Mui
On-set Production: Seoul Jeong & Eric P.
Talent: Luna
There's a saying that comes around every year: "New year. New me." While the quote can be taken as a thematic way to make some radical changes in your life just because you flipped the 12th page of your calendar, for Luna, it's an opportunity to become an indestructible version of herself.
Many already know Luna as one of the brightest and most powerful vocalists (or an ace, rather) in the K-pop industry, based on her ability to bust a move, act, and do whatever else is asked of her. As the main vocalist and lead dancer of f(x)—one of the leading second-gen performing K-pop groups of 2009, having racked up dozens of awards and nominations since debut—Luna has gone above and beyond her role as an idol, and made a name for herself with an intense drive to hone her artistry.
As Times Square bustles predictably outside, Luna gets ready inside an 8th Ave. studio for our shoot. Sitting in front of a vanity mirror with a fresh bob cut, she smiles and interacts with the hair and glam team, who weave in and out of her personal space. There was a sense of excitement and warmth that lingered as I entered the mirror's reflection to sit behind her. It wasn't long until we, along with the translator, found out we were all same-aged friends (or, specifically, "93-line" as we'd call it), making it more comfortable to open up and chat freely.
It's been six months since Luna, whose real name is Park Sunyoung, made her move to New York. The notion was for her to take her idol and theater chops to the next level  as MwE in the Broadway musical KPOP. This may have been her Broadway debut, but she's no stranger to the world of musicals: She has starred in the Korean versions of Legally Blonde, Coyote Ugly, High School Musical on Stage!, In the Heights, Gone with the Wind, and many more.
"Up until now, there were things that I was told and not allowed to do," the 29-year-old singer explains, as the makeup artist works on the left side of her face. "But here I can do anything. I really got that validation. There's no right or wrong answer to artistry, but up until now, I've been searching for the answer. And my entire career is built around that. I felt trapped in this idol world where I couldn't really be an artist myself. My first thought when I came here was, 'There are no limits and I'm going to try everything I can as an artist. Not just as an idol. But an artist.' I've been training since I was 14 years old, and until now it's a fight for survival. I wasn't able to show my real talent. So now I want to show the entire world what I'm actually good at and what I want to do instead of a company telling me what to do."
"I think the world doesn't know how great of a choreographer I am," she laughs, looking back at her reflection. "I want everyone to remember that I got into SM Entertainment for dance! Up until now, I was singing because that was my job, but I don't want anybody to be surprised when I bring it out."
It just so happens she's teaching a dance class, fulfilling a dream of hers, with a friend two days after our interview. 
"Being a choreographer was actually my childhood dream," she discloses. "I've been preparing really hard and really excited to show everyone. I learned a lot from my teacher, Lia Kim, in Korea. So I'm preparing to be the best Korean choreographer in New York right now!"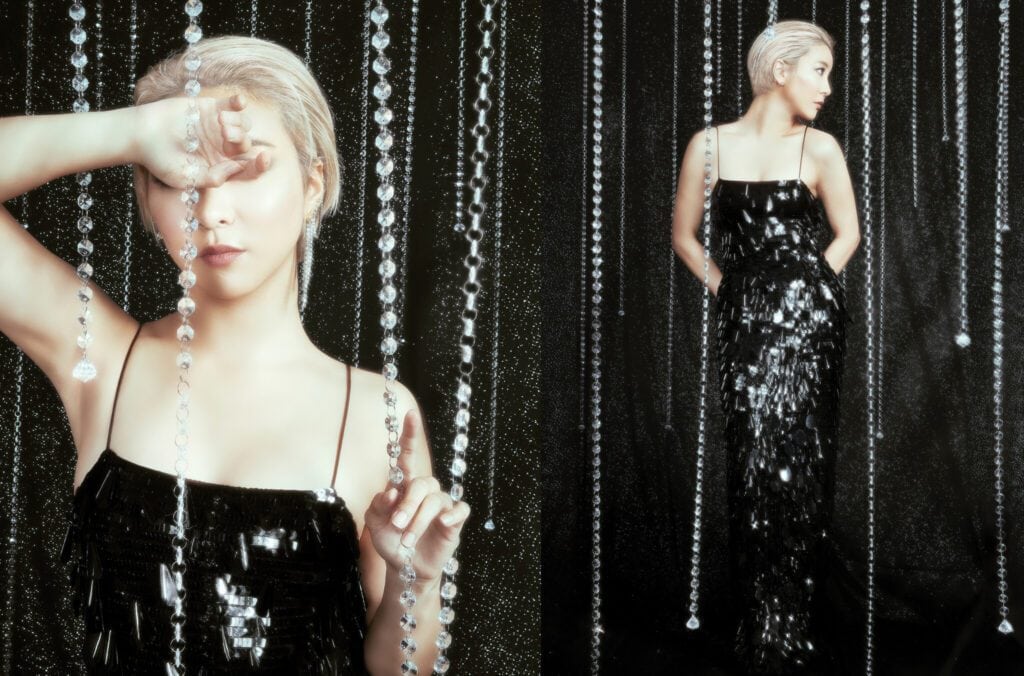 Her face lights up with enthusiasm for her craft. But it's hard not to address the elephant in the room: the abrupt end of KPOP's Broadway run. According to a report from The New York Times, the musical's grosses were "consistently well below what it costs to run a Broadway musical." Thus, after a total of 44 previews and 17 shows, it came to an end.
Alongside fellow cast members, including fellow K-pop stars Kevin Woo (former U-KISS), Min (miss A), and Bohyung (SPICA), Luna had a hard time coping.
"I felt like it was all my responsibility," she starts off, her tone changing. "I felt like I had to blame myself because I was the main character. I thought, if I had done just a little bit more, or tried a little bit harder, then maybe more American audience members would have come and watched the show. It was spiraling basically in my head. But at the same time, I feel like I've become an adult because, even though that happened, I learned so much through that entire process, and I'm excited about the next step and how I can grow from this."
She continues, "I understood why Broadway was such a world-class thing, because of how much effort, time, and practice that goes into doing one of these shows, and you have to do eight shows a week. I felt like a lot of that was on my shoulders. But I was really glad I was able to do itt. It was my first time seeing and meeting American audience members. It made me realize what I want to do instead of someone telling me to do it."
Besides this Broadway opportunity, another reason for Luna's move to the U.S. was to grow as an entrepreneur. In 2021, she opened her own agency, Grida Entertainment, to leverage her talent as an idol and emulate it to the next generation of talent. 
"My hope for the company is that I would be able to mentor, guide, and teach people who want to be an idol or an artist in the industry, but I'm realizing it's not as easy as it looks or sounds. I don't think I'm ready yet—I think I still have a lot to learn as a producer before I can make any of this happen. The reason I'm doing all of these different things—being in musicals, doing choreo, trying different genres of music and such—is so I can learn from all the processes and ultimately teach junior acts and trainees with the knowledge from my journey."
Between the glitz and the glamor, the never-ending schedules and stress, what motivates her?
"I've been seeing this quote floating around the internet, like, 'Don't be afraid of failure. Learn from it and keep going. Persistence is what creates excellence.' I've never completely given up. Ever. Anytime I had hardships, or was going through something, I would always try to find a different part of myself and try to express that," she says. "In my entire career, there was only one time when I really broke down. And it was basically when someone I really loved had something really unfortunate happen to them. After that, I honestly thought I couldn't get back up and thought I shouldn't be able to get back up, like I wasn't allowed to. That friend's dream was actually coming to America and studying music. It feels like I'm with my friend, that my friend is with me. And now I feel like I'm doing this for them and living for them in my career. All these journeys are because of them, that I'm able to do what I want."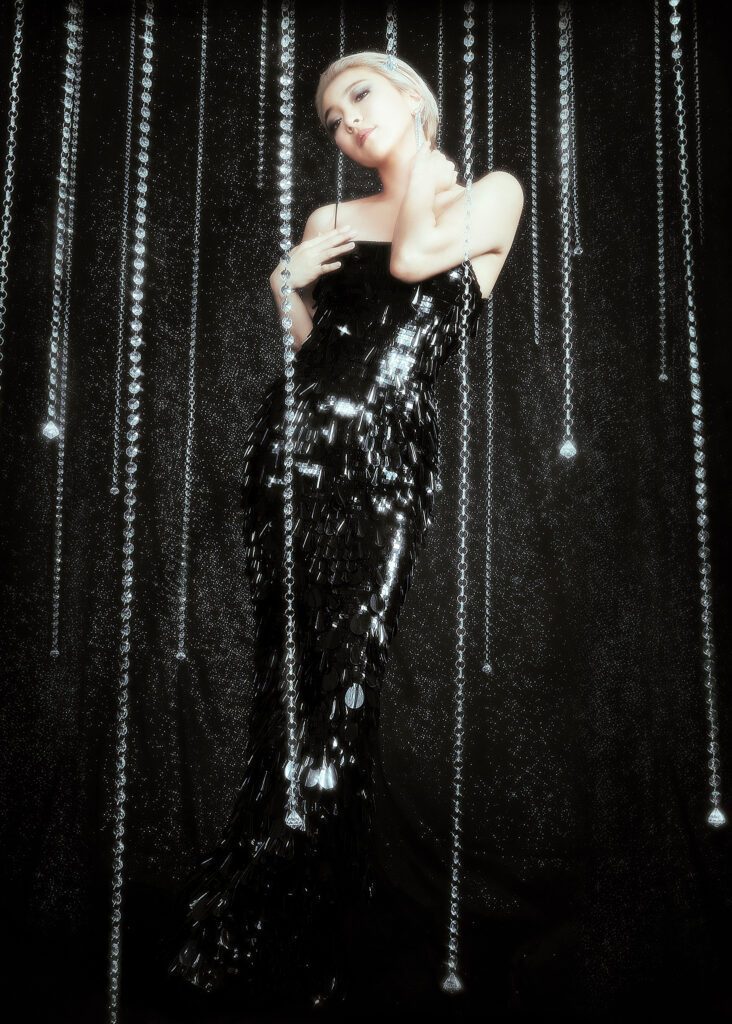 At this point in our conversation, Luna's glam was finished, and her hair was about to get a little zhuzhed up for the first look of the shoot. Looking at the audio recorder, the conversation was clocking in at 45 minutes; I knew our time was nearly up. "Any regrets in your career?" I ask.
"Just doing everything too quickly," she responds. "Because I was really just focused on one thing, I wasn't really able to see my friends, my family, colleagues, and grow with them. It's not a regret, but more of feeling bad and sorry. However, at the end of the day, I always tell myself that I am able to be here and end up doing what I want and love just by living that way."
The light bulbs bordering the vanity illuminate Luna's eyes and smile, making the K-pop star glow just like she did on the day she debuted as a member of f(x), or as Elle in Legally Blonde, or as MwE in KPOP. She looks at herself, with the confidence of knowing she's a well-established and multi-faceted artist.
"Right now, I'm enjoying the happiest time of my life and I'm doing exactly everything I want to be doing," she says. "This could be considered one of the hardest times in my life. Not everything is flashy and fancy, but I'm really happy that I get to do what I want."
Published on February 20, 2023
Lai Frances is a multimedia journalist and producer that focuses on music, pop culture and entertainment. She is currently a Social Producer at CNET by day and a Contributing Writer/Host by night talking about music and K-pop. You can find some of her bylines on MTV News, Teen Vogue, PopCrush, tmrw, and Glamour while being a host for KCON and NME. To date, Lai has written special features on K-pop acts such as TWICE, Taeyang, Jin of BTS, aespa, ITZY, Stray Kids, LOONA, Sunmi while writing cover stories featuring ATEEZ, Jackson Wang, and more.
Lauren Winn is a pop culture whackjob who works in fashion. She is a sucker for genre-meshed aesthetics, a textbook workaholic, a bonafide digital media queen, and the sum of many rotating hyperfixations. If you want to get on her good side, greet her with a LaCroix or follow her on insta @laurennakaowinn.