Over the last couple of years, Americans have fallen increasingly in love with Chinese chili crisp, a delightful concoction of dried chilis in fragrant oil, studded with the texture of dried garlic, shallots, soybeans, sometimes even peanuts. Its appeal is both added texture and flavor, ideal as a topping to a bowl of noodles or plate of fried eggs. However, for Korean American recipe developer and food writer James Park, chili crisp is more than just an Asian condiment. Park's adoration for the multifaceted ingredient goes so deep that his latest cookbook Chili Crisp: 50+ Recipes to Satisfy Your Spicy, Crunchy, Garlicky Cravings is an exploration of the storied history and uses of the ingredient in novel ways. With a dedicated fan base drawn to his ingenious recipes, vibrant video content, and contagious passion for the culinary world, Park has revolutionized the art of incorporating chili crisp into both savory and sweet dishes. That's right—for those with a sweet tooth, Park's innovative approach extends even to dessert, where chili crisp finds its way into dishes like a spiced sweet potato Basque cheesecake or peach and mixed berry crumble, showcasing the unexpected yet delightful marriage of sweet and spicy.
Although the story of chili crisp's origins is a testament to the rich tapestry of Asian culinary traditions, Park doesn't want to limit the use of the ingredient to only one region. His recipes hone in on its aromatic oils and irresistible texture, and examine how the dynamic ingredient transcends borders and culinary boundaries. With his creativity and unwavering passion, he has sparked a culinary revolution, inviting food enthusiasts to embark on a culinary journey that appeals to all palettes. I sat down with Park to discuss his path, what he loved about experimenting while writing his cookbook, and what his future goals are.
This interview has been edited for clarity and length.
Pooja Shah: First thing's first. What's so special about chili crisp?
James Park: It's no surprise that spicy food and flavors are beloved in Asian cultures, whether it's in Japanese, Chinese or Korean food. I love spice and began appreciating the nuances of the flavors of chili crisp and not just rely on what I can buy at the market. I started researching and found that there are a thousand types of different chili peppers and so many people have been manipulating the tastes and variations. I figured out that depending on the ratio of the pepper and other ingredients like oil, the flavor can vary dramatically. I once saw a person make chili crisp out of jalapeno flakes, and even heard about another chef using a separate blend of poblano peppers and Middle Eastern flavors. Chili crisp is a vehicle to explore my identity and to figure out what flavor I want to capture and share with my readership. Food belongs to everyone and I want people to think beyond the idea that there's only "one" option available. The more you taste and get exposed to, the more you are in touch with who you are.
Food belongs to everyone and I want people to think beyond the idea that there's only "one" option available.
PS: How did your background and Korean roots influence your cookbook on chili crisp?
JP: Many people associate chili crisp as a Chinese condiment, but it's not limited to just Asian or Chinese culture. Being a Korean American who was born in Korea, I wanted to tie this ingredient back to my roots. I always thought that chili crisp wasn't "my" thing, or an item that I had to buy from the store. But with this cookbook, I had an opportunity to develop my own recipe by using a pepper called gochugaru found in Korean food. It was my way to explore my identity through the lens of chili crisp. It's been really exciting to incorporate this ingredient into my Korean cooking and also introduce to the Korean community flavors that represent an infusion of all of my cultures.
PS: Taste testing this must have taken some time. How did you experiment using chili crisp with desserts and sweeter dishes?
JP: [Laughs] That was a really fun experiment! I love the idea of savory desserts, but many have umami, garlic, and scallion flavors which don't always make sweet flavors shine. I had a failed experiment trying to make a spicy peach cobbler which ultimately tasted like warm peaches with garlic and was really gross. I took this failure as a blessing to go back to the drawing board and rethink how to incorporate chili crisp. I thought nutty desserts worked well but had to tone down the garlic. I started considering how salt, sugar, oil, and chili flakes pair with a variety of nuts like almonds and peanuts. Adding texture to dessert allowed me to see the boundaries that I could break in the dessert world while maintaining the integrity of a sweet dessert and introducing spice in a thoughtful way. A lot of the desserts in my cookbook celebrate the marriage of flavors with a subtle spiciness. There's really no limit to what you can create when you experiment, and there's nothing that says that desserts can't be both savory and sweet. Plus, it's funny seeing people's reactions! I definitely got interesting looks the time I made a citrus pound cake for my friends and we sat around trying to identify the slight spiciness.
PS: You mentioned there are thousands of chili crisp types. Have you explored the nuances in taste, texture, or range of chili crisp in other cities or countries? What are things you found surprising or what are the commonalities?
JP: I tried so many chili crisp I lost count! Asian condiments encompass so many spicy options like sriracha, sambal, or chili oil, but chili crisp is unique, and in America especially there are so many brands. About a decade ago, there was a lack of options, but there is a growing trend of chefs and creators making their own version. I even had a collection of 20 different jars in my apartment that helped me develop my signature combination. I not only tasted each but studied the stories behind the creator to really understand their particular preferences. It made me figure out why one chef would use a fried garlic or why another chef used a unique pepper base, or why a third chef opted for black beans in his recipe. Without tasting these different nuances, I wouldn't have been able to come up with my blend. After eliminating things I disliked and putting my own twist on it, I was able to come up with a blend that represents me and my taste preferences. I don't think there should be any competition amongst brands because it's all about personal taste. I hope that people feel encouraged to be open about flavor and to really test the boundaries of their own palettes. 
PS: What was the most challenging part about writing your cookbook?
JP: Having to come up with so many ideas on one niche subject. When you look at other cookbooks, there is a variety of flavor profiles and it's less just one deep dive into a single ingredient. Because I was developing and tasting all of these recipes, I was eating spicy food three times a day for four to five months! I loved it, but of course I grew tired of it at some point. I also struggled due to the lack of connection with my family, who is still in Korea. Many chefs draw inspiration from their childhood or references from meals they shared with their family, but I couldn't do that with my own parents back in Korea or with my unofficially adopted parents in America. I basically had to figure out this cookbook by myself, and at times that felt lonely and discouraging to find connections in unexpected places.
PS: Speaking of family, what was your family's reaction when you told them about your book?
JP: They still can't believe I wrote a cookbook about chili crisp. It was rewarding for me when I went back to Korea to surprise them and they were able to taste my recipe. They even joked and said, "Can you come back to Korea to make it for me?" They started making meals and they sent me pictures of all their spicy food preparations. It's emotional for me, but their support gives me confidence to keep going. 
PS: There are over 50 recipes in your cookbook. Do you have a favorite?
JP: I think my favorite dish is the silken tofu soup. Tofu is a common Asian ingredient, and I originally developed this recipe because of my pure fascination for the classic Korean silken tofu soup, but instead of using the traditional Chinese chili crisp, I used my recipe. I had this realization that all of my recipes work with any chili crisp you use, but depending on its respective flavor profile, they will taste different. This was a joyful discovery, because no matter how many times you cook a recipe, even a slight difference will taste like you're making something completely new. I want readers to taste a range and figure out what's their favorite.
PS: What's next for you?
JP: I have a fun spicy book tour that I am doing in New York City and in San Francisco from September through November. There are various activities planned like a chili crisp demo and workshop at Edy's Grocer which is owned by a Lebanese chef who introduced me to Middle Eastern spices. I have a pop up scheduled at a restaurant in L.A. and a few bookstores through San Francisco I will be at. I love being able to collaborate with different chefs and with audiences through these interactive experiences. The feeling of getting DMs and photos from strangers about their chili crisp dishes is like no other.
PS: Any parting words?
JP: I never thought I could find my own identity or find my confidence in my Koreanness until I wrote a whole book about an ingredient I love to eat. I hope this book inspires you to ask yourself what do you want to capture about yourself and how can you make it the perfect version? It's all about soul searching and figuring out what stories you want to share and own.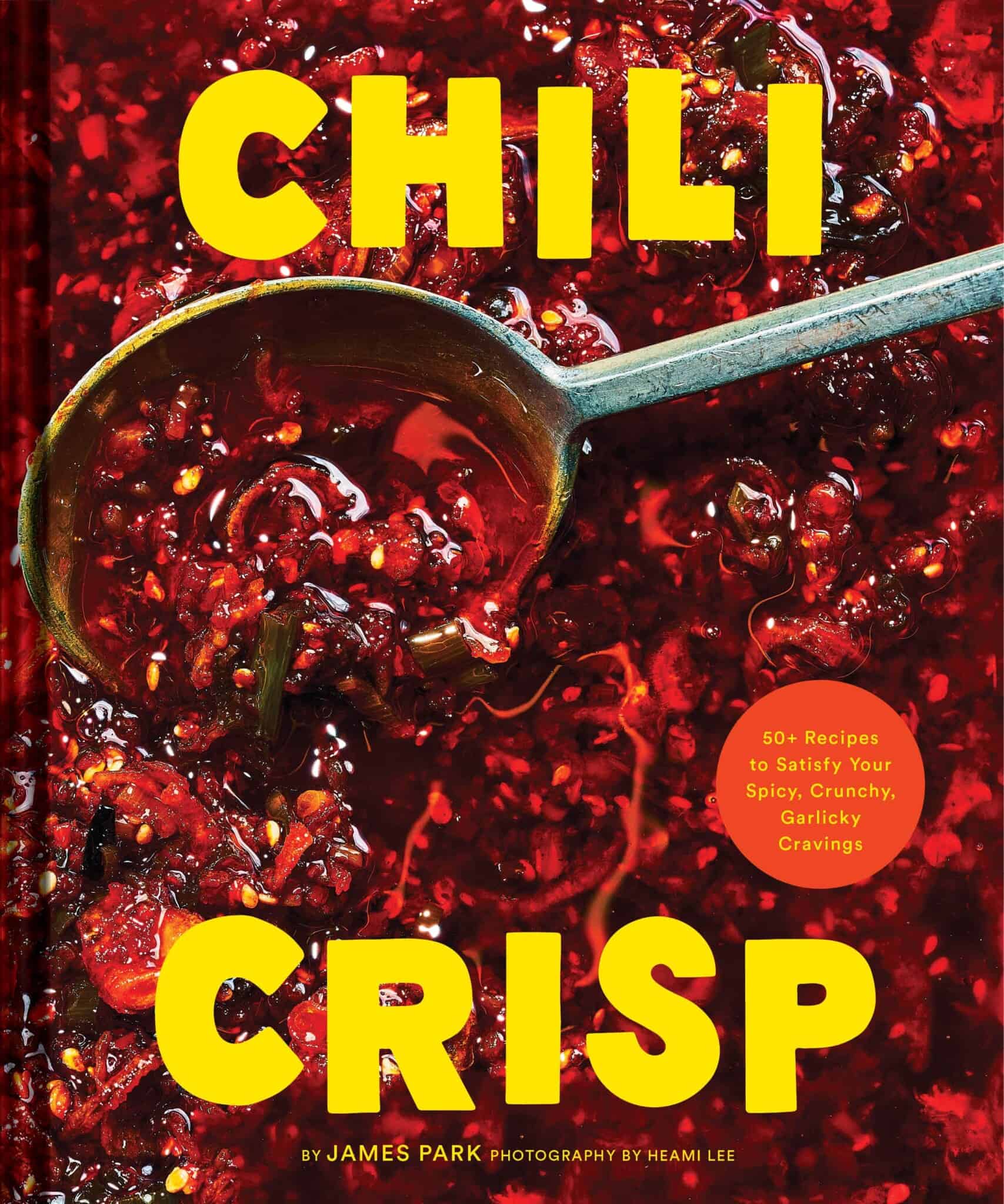 Spicy Peach and Mixed Berry Crumble Recipe
Excerpted from Chili Crisp: 50+ Recipes to Satisfy Your Spicy, Crunchy, Garlicky Cravings, courtesy of Chronicle Books

Serves 6 to 8
Ingredients
Fruit Filling
2 lbs [910 g] frozen peaches
1 lb [455 g] frozen mixed berries
⅔ cup [130 g] light brown sugar
1 lemon, zested and juiced
¼ cup [45 g] potato starch or cornstarch
¼ cup [60 g] Very Nutty Chili Crisp (page 19), plus more for drizzling
Crumbles
1 cup [140 g] all purpose flour
⅓ cup [65 g] granulated sugar
1 tsp kosher salt
1 tsp baking powder
½ tsp ground cinnamon
1 tsp vanilla extract
½ cup [113 g] cold salted butter
Ice cream, or whipped cream, for serving
Preheat the oven to 375 °F [190 °C].
To make the fruit filling
Thaw the frozen fruit for a few minutes, or until they are no longer frozen and stuck together.

In a large bowl, add the slightly thawed peaches and berries, brown sugar, lemon zest (about 1 Tbsp), lemon juice (about 2 Tbsp), potato starch, and chili crisp. Toss everything to make sure all the fruit is coasted. If the frozen fruit creates any clumps, be sure to break them apart. Let sit for 5 to 10 minutes while you prepare the crumbles.
To make the crumbles
In a separate bowl, add the flour, granulated sugar, salt, baking powder, cinnamon, and vanilla. Then, using either a micro-plane or the small holes of a grater, grate the cold butter directly into the bowl of dry ingredients. With clean hands, rub the grated butter into the dry ingredients. There should be some clumps here and there, and the mixture should resemble bread crumbs.

In a 9 by 13 in [23 by 33 cm] baking pan or a 12 in [30 cm] cast-iron pan, add the dressed-up fruit. Spread it out into an even layer. Sprinkle the crumbles all over the fruit, being sure to leave big clumps here and there for texture. Bake for 45 to 50 minutes, or until the top of the crumbles is toasted and golden brown and the fruit juices around the edges are jammy.

Serve warm, with a scoop of vanilla ice cream or a dollop of whipped cream with an extra drizzle of chili crisp on top. The leftovers can be stored in an airtight container in the refrigerator for 2 to 3 days. Reheat as necessary in the oven or microwave.
Published on September 26, 2023
Pooja Shah is a lawyer and freelance writer based in New York City. She writes on food, culture, travel, wellness and lifestyle. More of her work is at
www.pooja-shah.com
.