We're all a little bit too set in our ways. From our habits to our routines to our biases, most humans dislike change. If you're a picky eater, anxiety over the uncertain and unfamiliar is even higher. That's understandable! We all tend to seek out food we already like and that fits squarely within our existing beliefs of what we trust to be delicious. There's nothing necessarily wrong with being particular about what you eat. But when we shut the door on foods that contradict our assumptions about what's palatable or not (without even trying them first!), that's when we're a little too stuck in the comfort zone for our own good. Luckily, blogger and cookbook writer Abi Balingit is here to disrupt our fear of the unknown.
Presenting the adobo chocolate chip cookie: a unique twist on the classic chocolate chip cookie recipe. A mixture of sweet and savory, these cookies incorporate the bold and tangy taste of adobo sauce into the mix. Adobo isn't a specific dish, it's a way of marinating that makes use of pantry basics (soy sauce, white vinegar, garlic, peppercorns, and bay leaves) and is the heart of Filipino cuisine. "I did not know it would get picked up by the New York Times and be on the main feed. I was like, 'What the heck?' The response itself has been mostly positive. But obviously, some people are very skeptical," says Balingit.
Some reactions have even been borderline hostile. But Balingit is unfazed. The adobo chocolate chip cookie is not just emblematic of her personal taste and food palette, it's an extension and a representation of her identity and background. "I hope people can sense that [my recipe] is just one point of view on Filipino food and it's Filipino American specifically because that's who I am." And she's proud of it too.
Part recipe, part memoir, her cookbook—which was rejected by nearly all publishers due to its supposed niche—has now been covered in Vanity Fair, Vogue, Eater, and even in the Philippines. I sat down with Abi to talk about pitching her cookbook to traditional publishers, that now-viral adobo chocolate chip cookie recipe, and her advice for people who want to get into baking for the first time.
You can buy her cookbook Mayumu: Filipino American Desserts Remixed here.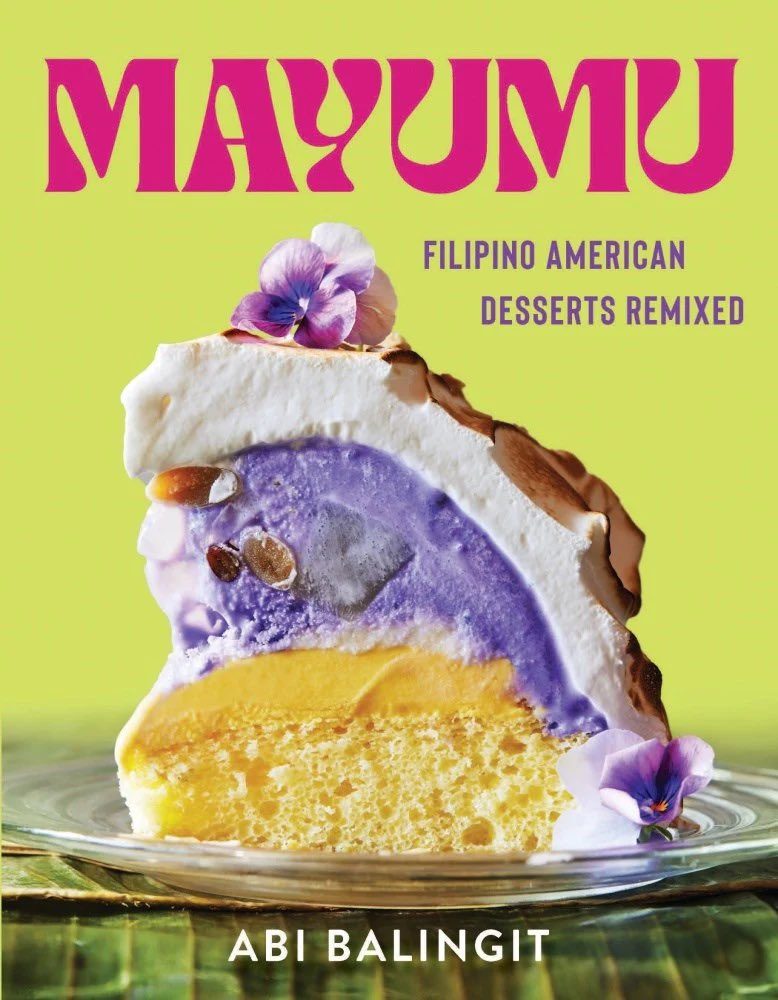 This interview has been edited for clarity and length.
Teresa Tran: Congratulations on your cookbook and all the success that you've been getting. Now that your cookbook has been out for over a month, what has the experience been like launching your cookbook into the world?
Abi Balingit: It's been a roller coaster honestly. I'm surprised that people are interested [in my book]. When I first launched the book, no one had read it yet because it had just come out that day. But with a little over a month, it feels like more people are trying recipes, more people are wearing their books down a little bit, and getting splatters of stuff on them. And I love that. I love a well-read book. It gives me a lot of joy to promote the cookbook because it is a forever thing, right? I'll forever be an author. I'll forever have this book on my shelf. It's a source of pride for me.
TT: What made you want to write and develop a cookbook remixing Filipino American desserts? Where did the idea come from? 
AB: I started my blog with The Dusky Kitchen in the summer of 2020. I was already starting to do fusion remixes of Filipino American flavors. I really felt compelled to write a book after feeling a positive response to [making] them. I love baking and I love talking about being Filipino and what that means to me. So I felt a cookbook was a perfect way to marry those two ideas together and goals. Every recipe is so personal to me. I love blogging and I love writing online. But there's something really special and tangible about pages that hopefully someone, you know, 20 years from now will pick [up]. [They'll] be able to read about my life in California, my life in New York, and I hope it becomes evergreen.
TT: I follow a few food journalists who have released their own cookbooks. One thing I learned: people don't really know how hard it is to put a cookbook together. Can you share a little bit about the behind-the-scenes of the craft, the photoshoots, the testing, and the writing of the copy that went into bringing this cookbook to life?
AB: A cookbook has so many moving parts. It starts with a good foundation, which is good recipes that can be duplicated at home and made by the baker in their own kitchens. I brainstormed different flavors that I definitely wanted to use, such as ube, jackfruit coconut, all these things that I felt were very purely tropical Southeast Asian Filipino. But at the same time, I thought about all the stuff I loved growing up, which was Hostess cupcakes, Twinkies, and hot Cheetos. For four months [until] my deadline for the first manuscript, I was vigorously testing in my Brooklyn apartment with my three roommates. I was working from home full-time in marketing at this point in time. Every day, [going from] writing, to being in the kitchen on my feet baking. Testing things and tasting things because conceptually something can sound really good on paper, [but] what matters is how it tastes.
I then used most of the [book] advance for the production, especially photography. I hired a really great photographer, a really great food stylist, and then an assistant food stylist, Joy Cho. And then their assistants and then a prop stylist. [I hired] my friend, who's an illustrator. And of course, my editors at HarperCollins. They made sure that all recipes were concise and clear. I'm really lucky that I had a really, really good team with me making sure that my vision was exactly what I wanted. Sometimes I would get so overwhelmed and shut down. [The book was] mentally, emotionally, and physically a huge, long haul of a process. It was like running a marathon or having a baby.
TT: It takes a village to raise a baby and you really birthed a book. It only took two years.
AB: And it has legs now. It's like a toddler. It's like Renesmee from Twilight or something. After a month, it can now walk.
There are so many layers that people miss sometimes just because they see a picture and a headline.
TT: One of your recipes from your cookbook got published in the NYT: the infamous Adobo Chocolate Chip Cookies. It got a really big reaction both here in the U.S. but also in the Philippines. I wanted to ask if you had anything to say about the response you've gotten and if you had anything to say to the people who don't perhaps like or understand the recipe.
AB: I really urge people to come to desserts and recipes with an open mind. I think there's a lot of clickbait of "Oh my God, what is that? What abomination is that?" I think the shock value of that was not really my intention. Read a recipe and try tasting it before you make assumptions about that recipe. I'm amazed at how much thought and intention go into recipes. That's exactly something I wanted to carry into my own book. This is not just coming out of nowhere. I provide an illustration explaining what traditional adobo is [in my cookbook]. There's a head note about why I love adobo and why I love playing around with these flavors. But sometimes people don't really understand it at all.
In a way [the recipe] is international because I'm Filipino American. There are so many layers that people miss sometimes just because they see a picture and a headline. Otherwise, the people that are excited about it, I'm so happy and grateful that people are actually trying it at home. Make your assumptions after that if you don't like it. I think it's better to have a strong opinion about something that you've made right, versus people just feeling meh about it. The goal is to make recipes that stick with people for a long time.
TT: What's your favorite recipe from your cookbook that you feel is maybe a little underrated or not as mentioned often compared to others and why is it your favorite? 
AB: People often ask, "What is the recipe that I can do that is really, really easy? And I'm really, really bad at baking." I'm like, don't you worry! I have a recipe for you: the Fiesta fruit salad. The Filipino fruit salad is such a party thing; it's so commonplace and ubiquitous. There's condensed milk and a creamy base with a fruit cocktail. What makes it very uniquely Filipino is anytime you've had lychee jelly at a boba shop, it uses nata de coco. There's texture and there's kaong, which is like sugar palm fruit. And there's something special about it that I just like. You really can't go wrong. The little twist that I have on in my recipe is that I go with specific types of fruit such as canned peaches, canned lychee, and canned grapefruit. It's a gorgeous recipe but with very little effort.
TT: I read that in the process to get this cookbook published, it actually got rejected by nearly all publishers because it was deemed too niche. But now it's really well-loved by people in the food and book spaces. Your book has transcended borders and it's reached who it was meant to reach. It really goes to show that specificity lends to universality. What kind of headspace did you have to be in and what kind of actions did you have to take in order to persist to get to where you are today and get this book published? How does it feel to have proved the naysayers wrong?
AB: Publishing is definitely an industry that is very old and traditional. It's kind of hard sometimes for people to wrap their brains around certain concepts and see if there is viability and sellability in people's ideas. But I'm lucky. I made it to the other side, but it was hard. I definitely don't want to downplay it. As someone who was not established in the food space, I had like 2,000 or something followers on Instagram, there was no one to make sure that what I was making was something that I could advocate for myself and stand by. And I'm really glad that it stayed true to that vision that I had, despite people's negative feedback.
When I was very uncertain if the [cookbook] would even get picked up at all, I vented and talked to other authors and close friends that were writers. In my mind, I had to still believe in this [process] even though rejection had hurt my feelings. There's always a lesson that comes out of rejection. I also had a really good agent who basically said if it didn't go through this round of submission, we'd go through it again and we'd fix up the proposal. My boyfriend, my friends, and my family supported me. They all told me, even trying at all was more remarkable. It was a scary time for sure. But I think it worked out.
It's funny because you know how Sandra Oh goes, "It's an honor to be Asian." Well we're like, "But it's a blessing to be Filipino [Grins]."
TT: What do you love about being Filipino? What do you love about your culture and heritage?
AB: The main thing I love is the sense of community. I've always felt that I got lucky having grown up in Filipino spaces. I have a big family. Just so much love and support there. That's something very universal in every culture or family. We Filipinos are not exclusively the only ones with big families. There are so many diverse islands in the Philippines. The diaspora is huge as well through factors of immigration and imperialization that have led to Filipinos in every part of the globe. People might not have a lot of knowledge [about Filipinos], especially because the media can sometimes not skew towards us. When people think about Asia, sometimes Southeast Asia gets left behind. And that's really tough. There are so many perspectives that get lost. I feel solidarity with everyone—we're all just trying to make it out here. It's funny because you know how Sandra Oh goes, "It's an honor to be Asian." Well we're like, "But it's a blessing to be Filipino [Grins]."
TT: Do you have any tips for people who don't know how to bake or don't have the means to bake, but want to get started? 
AB: My biggest advice is to start anywhere. Ina Garten famously said store-bought is fine. You don't necessarily have to go out of your way to produce an amazing dessert. You don't have to have the fanciest equipment either. My double chocolate chip cookie recipe, you just mix everything by hand. You actually don't need that much at all as long as you have your staple things. Then you can expand further after that. I love baking because I didn't have many skillsets to my name. I can't sing. I can't dance. Baking was the only thing that I really felt I could actually see people enjoying it. It's temporary, but then when you write a recipe and go make that again and again, then it's a forever thing. It's so ephemeral, but at the same time, it's forever. It's like a beautiful contradiction.
the adobo chocolate chip cookies! ft. brown butter steeped in bay leaves, soy sauce, vinegar, toasted pink peppercorns, & flaky sea salt! 🍪 pic.twitter.com/4QEwWWKfEr

— abi balingit 🌸 MAYUMU OUT NOW! 🌸 (@theduskykitchen) March 4, 2023
ADOBO CHOCOLATE CHIP COOKIES RECIPE
Recipe from Abi Balingit
Adapted by Genevieve Ko from the New York Times 
Time: Two Hours
Ingredients: 
Yield: About 20 cookies
1 cup/228 grams unsalted butter

2 fresh bay leaves or 4 dried bay leaves

2 ¼ cups / 306 grams all-purpose flour

1 teaspoon baking soda

1 packed cup / 220 grams dark brown sugar

¾ cup / 150 grams granulated sugar

1 large egg plus 1 large egg yolk, at room temperature

¼ cup / 66 grams soy sauce

2 teaspoons vanilla extract

1 teaspoon apple cider vinegar

10 ounces / 290 grams dark chocolate, coarsely chopped

1 tablespoon pink peppercorns

Flaky sea salt, for sprinkling
Preparation: 
Place the butter and bay leaves in a medium saucepan. Cook over medium-low heat, stirring frequently, until the butter melts and the specks of milk solids turn golden brown, 5 to 7 minutes. Immediately pour the brown butter into a large bowl and discard the bay leaves. Set aside until cool enough to touch, about 10 minutes.

Meanwhile, in a medium bowl, mix the flour and baking soda until the baking soda is evenly distributed.

Add both sugars to the cooled butter and mix by hand until well combined. Mix in the egg, egg yolk, soy sauce, vanilla and vinegar. Gently mix in the flour mixture until no floury streaks remain. Stir in the chocolate until evenly distributed.

Cover the bowl with plastic wrap or a lid and chill the dough in the fridge for at least 30 minutes or, ideally, overnight to allow more time for the flavors to meld. (If you have time for an overnight rest, the baked cookies will have an intense caramel flavor.) If the dough has rested overnight, let it sit at room temperature for 30 minutes to make it easier to scoop into balls.

Position a rack in the middle of the oven and heat the oven to 350 degrees. Line 2 to 3 baking sheets with silicone mats or parchment paper.

In a small skillet, toast the pink peppercorns on low heat until they start to smell fragrant, 2 to 3 minutes. Coarsely crush the peppercorns with a mortar and pestle or by pressing with a heavy skillet on a cutting board.

Using a 3-tablespoon cookie scoop, portion the dough into balls. Place about 6 balls on a prepared sheet, making sure to leave at least 2 inches of space between the balls. Place the bowl of remaining cookie dough back in the fridge until the first sheet is done baking.
Sprinkle some of the crushed pink peppercorns and flaky sea salt on top of the dough balls before popping the baking sheet into the oven.
Bake for 10 to 12 minutes, until the edges of the cookies are golden brown, then drop the sheet against the oven rack (or another sturdy rack or surface) from a height of 5 inches to create outer ripples in the cookies. Set the baking sheet on a wire rack to cool completely. Repeat the process with the remaining cookie dough and lined baking sheets.
Published on April 29, 2023
Teresa Tran (she/her) is an American-born Vietnamese writer and filmmaker based in Atlanta, Georgia, with a background in theater and community organizing. She has a B.A. in English and Women's Studies and a B.S.Ed in English Education from the University of Georgia and studied British Literature at the University of Oxford. She is currently writing and directing her own short films and working on her debut novel. You can find her on Twitter at @teresatran__.